"Quiet Places: A Novella of Cosmic Folk Horror"

Book Review

Written by Tony Jones

Published by Crystal Lake Publishing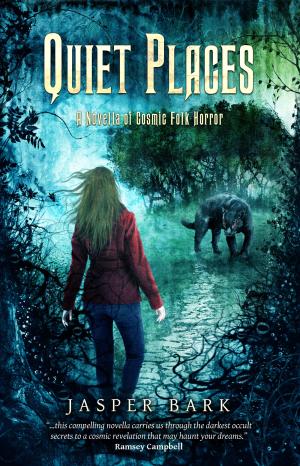 Written by Jasper Bark
2017, 123 pages, Fiction
Released on September 29th, 2017
Review:
Make sure you read Jasper Bark's acknowledgements after the conclusion of this incredibly dark novella cleverly constructed around an ancient family curse. The author explains how Quiet Places: A Novella of Cosmic Folk Horror began life as a 7,000-word short story before realising his vision was far from complete and so expanded it into this much longer version. The Kindle is the perfect medium for horror novellas, so Jasper Bark has ample opportunity to craft a very well written and enjoyable story that flirts with a few different areas of the horror genre.
Set in a remote village in the Scottish Highlands, Sally and her fiancé David are the newest arrivals after relocating from London to start a new life in Dunballen. David grew up in the village and is the last surviving member of the village's first family; although his clan has sold the majority of their land, he is still seen as the Laird of the Manor. He is a big cheese in a small town, but Sally is treated with both curiosity and suspicion. So her new start doesn't quite go as planned and she finds the villagers difficult to gage and struggles to make friends with the exception of the local librarian. Coupled with the fact that David becomes withdrawn, isolates and locks himself away for long periods, Sally begins to question her reasoning for settling in a village which has virtually no contact with the outside world. There is the internet and no newspapers except the local rag, all of this she finds very odd.
The novella opens with a terrific prologue with Sally caring for many villagers who are no longer able to look after themselves, even the most basic functions, and seem void of human characteristics. It is implied she is the cause for whatever catastrophe has befell the villagers. The story then jumps back to eight days earlier and the circumstances which led to the events of the prologue are revealed very slowly and this is the main plot thrust of this very readable novella.
After living in the village for a while, Sally spots a huge black cat, which David refuses to admit he can also see. As time goes on, the cat gets bolder and appears to be stalking David, or alternatively seeking something from him. Things then go from bad to worse when she begins to hear a whispering voice coming from within the garden hedge, a supernatural being which cryptically offers to help Sally with her problems. Bark throws a lot of angles into the story, including ancient family curses, Scottish folklore, supernatural beings, Alastair Crowley type cults, heretical writings, and trips beyond the land of the living into cosmic horror. All of which combined amount to a fine yarn which has more than enough to keep you entertained for an evening.
However, one major criticism of the novella is the multiple jumps into different time sequences, which are at times frustrating. Some of these jumps are only a few pages and the backwards and forwards nature of the story becomes a little confusing. This kills some of the momentum and although they are used as a literary tool in explaining the origins of the curse and the complex history of the village, there are just too many of them for a piece of writing of this length. I also wonder how the plot would have played out if it was told in a more straightforward fashion.
The story has more strands than you would expect in a novella, hanging together really well until the shocking conclusion goes full circle back to the prologue. It's certainly not a product the Scottish Tourist Board will be recommending anytime soon, however, although very dark in content, it has little in the way of violence compared to some of the author's colourful and varied output of short stories, novellas and longer work. Quiet Places: A Novella of Cosmic Folk Horror is well worth having a punt on and a solid introduction to Bark should you never have come across him before.
This page includes affiliate links where Horror DNA may receive a small commission at no extra cost to you.