"Red Rain" Book Review
Written by Gabino Iglesias
Published by Touchstone Books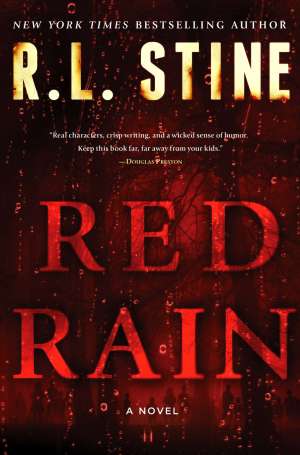 Written by R.L. Stine
2012, 384 pages, Fiction
Released on October 9th, 2012
Review:
I was a little scared even before opening R.L. Stine's Red Rain. Years of reading have taught me great poets not always transition smoothly into prose, talented novelists don't necessarily have what it takes to write nonfiction, and authors who focus on young readers might not succeed in entertaining adults. After reading the first few chapters, my apprehension ebbed away: Stine's writing chops remained unscathed by his transition into the world of adult fiction.
Lea Sutter has a penchant for travel writing. With an up-and-coming blog and many plans for the future, she finds herself on Le Chat Noir, a small island off the coast of South Carolina. The trip is going well; the locals are nice and she gets to witness a strange local ceremony. However, things quickly take a nasty turn when an unexpected hurricane destroys the island. With her family worrying about her back home, Lea is forced to deal with an onslaught of emotions when she loses all communication and then walks among the death and devastation.
In the storm's aftermath, Lea is standing in the rain when she's approached by orphaned twins. She really wants to do something to help the island, so she decides to adopt them. Her husband Mark, a child psychologist who recently published a very controversial book, and two children, Ira and Elena, express their reticence. Despite their fears and surprise, she insists and says she's already in love with the boys. Before long, Lea, Samuel, and Daniel are back home in Long Island. The twins are nice and seem to be immensely grateful, but not for long. Something is wrong with the boys, and their presence seems to make bad things happen. Two brutal murders in which Mark is a suspect are only the beginning. The twins have an agenda and the power to achieve their goals. Their true identity will eventually come to light, but it won't be the only sinister secret Lea brought with her from the island.
While this is a horror novel, it walks the line between that and a supernatural thriller simply because it's way more successful when it comes to creating tension than it is about eliciting fear. In fact, what will keep most readers turning pages is the anxiety Stine manages to inject into his narrative. The twins are the center of the action, but what they do causes a family to crumble. Letting readers know more than the characters gives readers a wonderful, somewhat voyeuristic feeling, but here it also works as a way of making them want to warn the victims (yes, just like some folks want to scream at the actors on screen while watching a horror movie).
Stine clearly wanted to make a statement about Red Rain being a novel for adults. There are a few instances of sex and gore here that set this book apart from his previous work. It's obvious the author was aware of how elements like this would get his message across, but he thankfully refrained from going overboard with them. In other words, Stine is not trying to convince anyone here that he's a hardcore/splatterpunk/violence writer.
Red Rain is sometimes creepy the way all good horror stories involving kids tend to be and has enough action to keep you entertained for its almost 400 pages. It's also told in an enjoyable pace and inhabited by likeable characters that, although somewhat static and not extremely developed, get the job done. As a bonus, Mark has an affair and his research and book put forth a few interesting ideas, so there's a bit more than the main story to dig into.
If you've been missing Stine's storytelling as an adult, don't despair: consider this Goosebumps for the older crowd.

This page includes affiliate links where Horror DNA may receive a small commission at no extra cost to you.