"Spontaneous Human Combustion"

Book Review

Written by Joe Haward

Published by Turner Publishing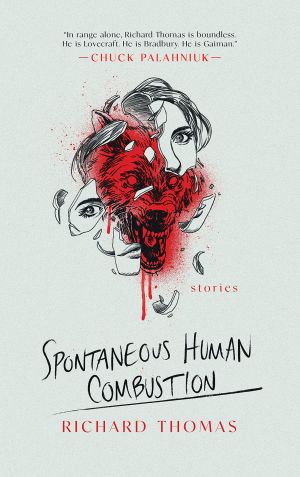 Written by Richard Thomas
2022, 250 pages, Fiction
Released on February 22nd, 2022
Review:
Sometimes there are moments when you read an author and it is clear they understand what it means to be human. Their work radiates with a depth of insight into the human condition, and they refuse to allow the reader to pull away from that reality. This is what it is like to read Spontaneous Human Combustion by Richard Thomas.
This is a collection of fourteen short stories, previously published elsewhere between 2015 and 2021. For fans of Thomas' work looking for new and unread material, this might be a bit of a disappointment. But, for someone like me who has never read anything by Thomas before, it is a book of delights.
Spontaneous Human Combustion begins with "Repent," a powerful story on the dark complexities bristling within the main character's mind. The theme of regret spills across the page of this story with uncontrolled force, pulling the reader in with savage beauty. Written in a distinct neo-noir voice, Thomas brings a welcome surprise as the story transforms alongside the character into something with a distinct horror voice of ritual and sacrifice. The life and longings of the man whom the story follows is one of failure and decay, so much lost, the final desperations of someone searching for some kind of redemption.
If "Repent" speaks of regret, "Clown Face" oozes desire and regret. This story, along with others like "Saudade" and "Hirath," has echoes of Stephen King, something Thomas mentions in the book's endnotes. The shortest story in the collection, "Clown Face," packs a beautiful punch, evoking horrific imaginings of that which hides beneath a clown's makeup.
"Requittal" utters quivered words of pain throughout, a tortured existence whose life we are thrown deep into the midst of, left with a pile of questions that can never be answered; there is a power and a brilliance here. Thomas finds it easy for the reader to be left in the dark, unsure of what has just happened, searching for reasons why. This is why Spontaneous Human Combustion is a book that understands human longing and living; Thomas will not resort to easy answers or neatly tied-off endings.
Perhaps my favorite, "Battle Not with Monsters," is a wonderfully dark story of unveiling, where the reader is slowly allowed to see, with clear vision, the truth of who the main character is and the desires that endlessly drive them.
Perhaps everything that Thomas writes could, at its heart and core, be described as a song of desire, a commentary upon human longings, the hidden and known that drive us in a variety of ways. "Saudade," "Hiraeth," and "Nodus Tollens," all carry that punch of longing and desire, with weirdness, surprise, and horror swirling together in the vortex of great storytelling.
"How Not to Come Undone," feels different from the other stories, perhaps because it carries more hope than some of them. The magic within the storyline reminded me of how ancient communities feared and worshiped twins, believing them to be a gift or curse from the gods. This duality is masterfully played out, Thomas balancing with great finesse the paradoxical challenges each character faces. The next story, "From Within," shares something of the hopefulness that we see in "How Not to Come Undone." That's not to say there isn't a brooding bleakness to the story, a dread that permeates each page, but one that doesn't overwhelm the story to a point of no return.
There are few stories that capture the idea and scope of cosmic consequences better than "The Caged Bird Sings in a Darkness of Its Own Creation." Intimate and devastating, whilst at the same time enormous and filled with magic, it is a captivating tale that makes the reader reflect upon the power, or lack, of the human will.
Written as a letter to the reader, "In His House" is a Lovecraftian story that slithers under your skin, shifting and shaping reality. "Open Waters" uses virtual reality to tell a different tale of cosmic horror, yet one that still pays homage to Lovecraftian themes, existence firmly in reflux. Thomas loves the show, Black Mirror, and there are echoes and tributes in "Open Waters" to Charlie Brooker's remarkable series.
It is clear that Thomas is a big fan of Stephen Graham Jones, and he tells us that "Undone" emerged from a story by Jones called "Faberge." "Undone" is wonderful. Written as a running "stream-of-consciousness," a single sentence over 1500 words in length, the style draws the reader into the breathlessness and panic of the main character. Written in such a way, it is relentless in its pain and anguish and despair and panic and nihilism and...you get the picture.
Spontaneous Human Combustion finishes with "Ring of Fire," a horror, sci-fi mix that plumbs the depths of human misery, yet emerges from the fire with another more hopeful story to tell. As Thomas says, "I wrote this story to try and find a way to believe in the future, to show that evolution is possible, and men can be better." "Ring of Fire" is a fitting end to the anthology, a story that displays the literary excellence that Richard Thomas possesses, and almost gathers together each of the other stories into itself, the themes that run through each, finding a resting place here.
This collection, in its diversity of stories, and depth of storytelling, sums up why collections by a single author are brilliant and worthwhile additions to our bookshelves. I'm looking forward to getting better acquainted with the work of Richard Thomas.
This page includes affiliate links where Horror DNA may receive a small commission at no extra cost to you.