"The UFO Dossier: 100 Years of Government Secrets, Conspiracies and Cover-Ups"

Book Review

Written by Ron Williams

Published by Visible Ink Press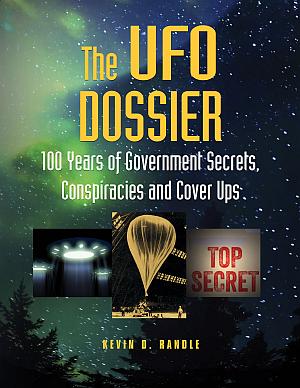 Written by Kevin D. Randle
2015, 432 pages, Reference
Released on October 13th, 2015
Review:
A while back I was given the opportunity to review Kevin D. Randle's, The Government UFO Files: The Conspiracy of Cover-Up. That book was decent, and when Horror DNA offered me the chance to review his next one (this one!), I gladly took it.
In its own way, The UFO Dossier: 100 Years of Government Secrets, Conspiracies and Cover-Ups is also a decent book. It has story after story of UFO sightings and experiences chronologically laid out starting in 1908 and ending well into the 21st century. It is well written. It has photographs on almost every page. On paper (pun intended), it looks good.
In hand though, the book is a bit underwhelming. First, with so many stories being recounted, chances are you're going to read some of the same things you've read before. If you've read one of Randle's previous books, it's guaranteed you're going to be re-reading some things. While there are lots of photographs included, they are mainly portraits of middle-aged men and women taken in the 1960s and 1970s. Why they were included I can only guess, so I won't. I will say that they generally don't serve any purpose other than to show a pic of someone who commented on a UFO experience or had a UFO experience.
On the plus side, I bet there are some things in here that most of you will find interesting and some things that will be new to you. If you read everything that comes out about UFOs or if this isn't your first Kevin D. Randle book, I'd say skip it. Not that it's bad, but because there is very little here for you. Talk your friend into buying it and then borrow it from them. If you're looking for more info on UFO sightings and know very little, you'd like this. I would also recommend this if you're looking for something quick and easy to read during your commute, or like to have some light reading before bed. The way the book is laid out and organized makes it perfect for people who only have enough time to read 2-3 pages in a sitting.
This isn't the best UFO cover up book out there, but it's by far not the worst. I feel like author Randle is rewriting his older books at this point, but if you haven't read them, what does that matter to you, the reader? At the end of the day this is well written, covers a lot of different sightings, and has some interesting analysis. While it doesn't stand out from the dozens of other books out there, it's a good addition to the field.
This page includes affiliate links where Horror DNA may receive a small commission at no extra cost to you.