"Absolute Carnage vs. Deadpool #1"

Comic Review

Written by James Ferguson

Published by Marvel Comics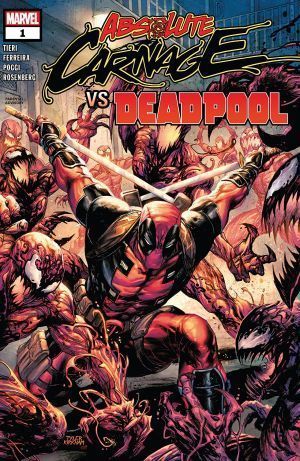 Written by Frank Tieri
Illustrated by Marcelo Ferreira
Inked by Roberto Poggi
Colored by Rachelle Rosenberg
Lettered by Joe Sabino
2019, 32 Pages, $3.99
Comic released on August 21st, 2019
Review:
With all the doom and gloom (not to mention bloodshed) coming from Absolute Carnage, there has to be a lighter side to all this, right? That's where Deadpool comes in. The Merc with a Mouth takes his buddy Spider-Man's advice and checks himself into the Ravencroft Institute only to find it taken over by Carnage and his minions. Since Carnage is trying to kill everyone that's ever worn a symbiote and Deadpool has worn four of them, there's a big target on Wade Wilson's head.
I'm going to say this upfront: I don't like Deadpool. I loved the first movie, but I've never been able to get into the character in comics. He feels like a one-note joke that's played for way too long. With Absolute Carnage vs. Deadpool, I think I'm starting to figure him out. He's sort of like Bugs Bunny in the Marvel Universe, realizing how absurd some of these adventures, characters, and tropes are and poking fun of them throughout. He's also basically indestructible.
While Absolute Carnage is very much a horror story, this tie-in mini-series is definitely on the sillier side. Deadpool just can't shut up, regardless of what he comes across, even if it's a mental institution full of symbiote monsters led by the reanimated corpse of a serial killer and his werewolf lieutenant. You know, now that I've typed all that out, there's plenty to poke fun at with this event. Writer Frank Tieri seamlessly blends the humor and horror throughout the entire issue.
Deadpool's word balloons contrast well with those of Carnage thanks to letterer Joe Sabino. The former is light and matches up to his comedic points, while the latter comes from the bowels of Hell. It would be like Daffy Duck having a conversation with Satan.
Marcelo Ferreira's artwork is a nice fit for this as well. It's funny to see Deadpool's wide-eyed look in the same shot as a man with a slit throat. It helps that Deadpool is wearing an oversized Rhino sweatshirt. Roberto Poggi's inks bring out the great shadow work, emphasizing the darker tones of the Ravencroft Institute.
Click images to enlarge
I will never get tired of Carnage's new look. It's every bit the monster. Ferreira makes him look a little bulkier, not like the walking skeleton we see in Absolute Carnage. It's still maniacal and terrifying, particularly with his face. It comes down to the mouth. His gaping jaw is an ever-changing jagged shape, like a frightening seismograph.
What really sets the mood is Rachelle Rosenberg's colors. The entire comic looks like it was lit by a jack-o'-lantern. This is especially true when Deadpool arrives at Ravencroft. The sun shines in from the outside, so you can see it coming in through the door and some of the windows, but that's the only light. The rest of the place is dark and foreboding.
Everyone is clamoring for some Absolute Carnage action. In the case of Deadpool, he may not realize what he's gotten himself into, which is sure to be an interesting setup. These two can and will tear each other apart. They've done it before. The only difference this time is that it might lead to the awakening of an eons-old alien monster god. No pressure.
Grades:

Story:








Art:
Overall: