"Afterlife with Archie #6" Comic Review
Written by James Ferguson
Published by Archie Comics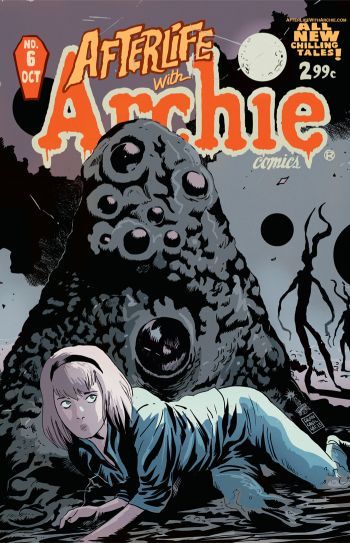 Written by Roberto Aguirre-Sacasa
Illustrated by Francesco Francavilla
2014, 32 Pages, $2.99
Comic released on July 23rd, 2014
Review:
Remember back in Afterlife with Archie #1 when a distraught Jughead brought his dead dog Hot Dog to Sabrina the Teenage Witch for help? She used the Necronomicon to bring the pet back to life and caused a zombie invasion in Riverdale. After that, her aunts banished her to a dark hole somewhere to think about what she had done. This issue takes a break from the undead to check in on Ms. Spellman and see how she's doing. The quick answer: Not good.
This is the issue of Afterlife with Archie where everything changes. Up until now, it was a great zombie comic. This is where it expands into further elements of horror. This isn't like bringing in werewolves to a vampire story. This is so much more.
Sabrina finds herself in a mental institution of sorts. She has memories of her past as a witch, but she seems to have no powers. Her psychologist, Dr. Lovecraft, encourages her to take her medication and join in the group therapy. Meanwhile, she begins to see brief glimpses of monsters and other demonic creatures. These happen in a flash. When she looks back, everything appears normal.
The inclusion of Lovecraftian monsters is handled so seamlessly that you would think they were in every issue to date. Creators Roberto Aguirre-Sacasa and Francesco Francavilla are huge horror buffs and it shows in Afterlife with Archie. Two of the other patients that Sabrina encounters are Erich Zann and Richard Pinkman, characters from Lovecraft stories. One of the other doctors is named Machen, an author that who was a big influence on Lovecraft.
If you thought Francavilla could draw zombies with the first arc of Afterlife with Archie, wait until you see how he draws the elder gods and their influence on the world. It starts subtly, with Sabrina reminiscing about going swimming off a boat called "R'Lyeh" and finding herself pulled under by dozens of tentacles. This specific shot takes up the top half of a page, transitioning into the office of Dr. Lovecraft as Sabrina is recounting this tale. It's a great piece. As Sabrina's session continues, other oddities start to appear. Tentacles extend from the doctor's shadow. Dozens of eerie eyes cover his back. It's the stuff of madness and it helps cement that things are not as they seem at this institution.
The real joy comes in the final pages. You flip to a huge double-page spread with a breathtaking and terrifying image. I'm not spoiling it here because it is just too good. Francavilla is a master artist, capable of giving you nightmares if he so chooses.
This issue also includes a special treat in the form of a six-page preview of the upcoming Sabrina horror comic, due for release in October. Written by Aguirre-Sacasa and illustrated by Robert Hack, the book will be a period piece set in the 1960s. It will not be a direct tie-in to Afterlife with Archie, but seen as a companion book. The preview is suitably dark and definitely makes witches scary again. This is certainly nothing like the TV show starring Melissa Joan Hart.
Afterlife with Archie was already a solid and emotional zombie comic. This issue expands it into further areas of horror in an organic way, setting it apart from its rivals. From the looks of things, the creators are just getting started.
Grades:

Story:


Art:
Overall:
This page includes affiliate links where Horror DNA may receive a small commission at no extra cost to you.