"Atlantis Wasn't Built For Tourists: Volume 1"

Trade Paperback Review

Written by James Ferguson

Published by Circle Pit Press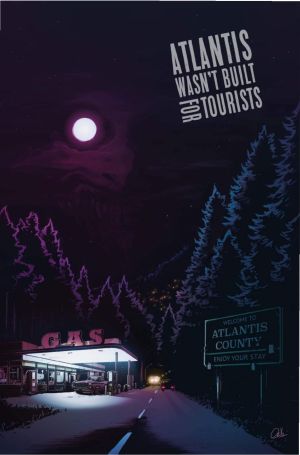 Written by Eric Palicki
Illustrated by Wendell Cavalcanti
Colored by Mark Dale
Lettered by Shawn Lee
2018, 98 Pages
Review:
Lucas Lewis was minding his own business when a drunk woman almost ran him over with her car. He tries to do the right thing and bring her to the hospital where he learns she's the Sheriff's niece and he's just opened up a big can of worms. The sleepy town of Atlantis has its fair share of secrets. The crime rate is next to nothing and that's because anyone that gets out of line gets eaten by vampires. Lucas has some secrets of his own.
Atlantis Wasn't Built for Tourists slowly reveals each monstrous and intriguing element, like peeling an onion. You can tell early on that something's off about this town. That unsettling feeling never goes away as things get weirder and weirder.
Much of this comes from Wendell Cavalcanti's artwork, particularly the facial expressions of the characters. For example, the Sheriff is just a little too confident and more than a little pushy to get Lucas out of town. You'd think after saving his niece's life that the guy would be much more appreciative. He has a quizzical look on his face, like he's always sizing up Lucas. As the story goes on, we see how he's got some pretty good reasons for that.
As mentioned above, there are some vampires in the mix who burst onto the scene in a frenzy. They were once human, but now the monster has taken hold, bringing out long claws and sharp fangs. What stands out in their first appearance is the blood; it's everywhere as they descend upon their prey. Colorist Mark Dale drenches these pages in a number of different shades.
Letterer Shawn Lee does a solid job guiding us through Atlantis Wasn't Built for Tourists. I would have liked it if the vampires had a different style to their word balloons as I think that helps distinguish them as the unnatural entities they are, but this doesn't take away from the reading experience at all.
Dale also helps set the tone of Atlantis Wasn't Built for Tourists. That foreboding feeling is constant even when the sun is shining. You'll spend the whole book wondering when the other shoe will drop, which only adds to the palpable tension.
Cavalcanti and Dale adjust their approach for some flashback sequences. These look like excerpts from old school comics, faded with age, yet maintaining their levels of terror. This is a great detail that works very well.
Although this book has a definite beginning, middle, and end, it's very much set up for more stories. Writer Eric Palicki establishes this world and the monsters within, leaving the door wide open for all kinds of possibilities. From the sound of things, this isn't the first encounter with the supernatural Lucas has had and it won't be the last. I certainly hope it's not either.
Atlantis Wasn't Built for Tourists shows us that heroes and villains come in all different shapes and sizes and often from unexpected places. This is a tale full of twists and turns that will keep you on your feet. It's got a nice blend of horror and drama with a pinch of comedy, making it an all-around solid book.
Grades:

Story:


Art:
Overall: