"Cult Classic: Creature Feature #2"

Comic Review

Written by James Ferguson

Published by Vault Comics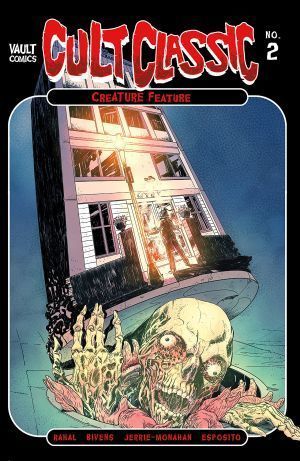 Written by Eliot Rahal
Illustrated by John Bivens
Colored by Hannah Jerrie & Iris Monahan
Lettered by Taylor Esposito
2019, 32 Pages, $3.99
Comic released on November 20th, 2019
Review:
Something monstrous has been unearthed from the swamps near the town of Whisper. It's already claimed some lives and more will be taken before this is all over. The residents are mostly unaware, except for maybe Berwyn Meyer, the horror host from the local TV station. Whether or not he's prepared to do anything about it is another story.
Cult Classic: Creature Feature has developed an unsettling and tense pace. Writer Eliot Rahal bounces from the mundane to pure, unbridled terror at a moment's notice. We can go from a simple conversation between friends to a skeleton tearing a man's throat out all within a few panels. This creates an uneasy feeling, so we're always on edge. You never know what will happen in Whisper because nothing is off limits.
We're still in the early stages of this story, so no one really understands the danger they're in yet. As the reader, I'm practically yelling at some of them to get the hell out of there, but they just keep going on with their lives, unaware of the monsters slowly surrounding them. Rahal continues to flesh out the characters in this sophomore issue. By further investing us with their lives, it makes the horror work so much better.
Artist John Bivens is a big part of that, bringing out the emotions of each character in their facial expressions. There's a scene set in the high school where a general malaise has set across all of the students. They're bored out of their minds discussing Moby Dick. I'm sure we've all had that look in a similar situation. This is the moment before things change for so many of them. It's the last time they have anything close to a normal life.
The aforementioned skeleton is equal parts creepy and humorous. It's a little more than a skeleton, as there is some muscle and sinew in there, especially on the head. The eyes are what make this creature just a bit silly as they roll in odd angles, rarely pointing in the same direction. The bit of humor stops just short of taking you out of the story, as it's surrounded by so much bloodshed.
Click images to enlarge
There's a tremendous amount of detail in this sequence. You can see each vein and piece of tissue pulled tight across and through the skeleton's body, not to mention the ridges in its bones. It lets out a creepy scream, expertly rendered by letterer Taylor Esposito. This shrill tone spreads across the page at times like fingernails on a chalk board.
The town of Whisper has a sun-bleached look to it from colorists Hannah Jerrie & Iris Monahan. I'm not sure what time of year Cult Classic: Creature Feature takes place, but it feels like the last days of summer. Granted, that can't be true since we have that high school scene. In any case, it creates the feeling that these characters, particularly the teenagers, have their whole lives ahead of them. This is bittersweet since we know what's waiting for all of them.
Cult Classic: Creature Feature is a solid and terrifying horror comic with a pinch of quirky humor. It's a tense read that will have you afraid to turn the page, but longing to do so to see where this story goes next. The book is filled with solid character development that only amplifies the scares. Do not miss this comic.
Grades:

Story:






Art:
Overall: