"Dead Day #1"

Comic Review

Written by James Ferguson

Published by AfterShock Comics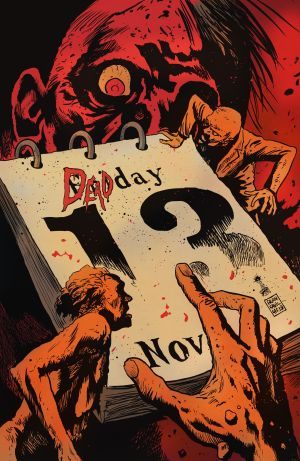 Written by Ryan Parrott
Illustrated by Evgeniy Bornyakov
Colored by Juancho!
Lettered by Charles Pritchett
2020, 33 Pages, $4.99
Comic released on May 27th, 2020
Review:
We celebrate all kinds of things, some with actual meaning and others because it's National Hot Dog Day or something like that. In the case of Dead Day, it has backing and it could be pretty terrifying. Every so often, the dead come back to life for one night. They shuffle out of their graves to reunite with friends and family...or to settle old grudges. The Haskins family is making their last preparations for the evening and for Melissa, it's personal. Her past, before her white picket fence and peaceful existence, is coming back to haunt her. Will she embrace it? Or confront it head on?
Dead Day has a lot to get through. There are so many questions about how this works and what happens. Writer Ryan Parrott does a good job in weaving some of these answers into the story as the Haskins clan gets their stuff together for this fateful night while also developing the characters. It's no easy task and there are definitely still a whole lot of questions, but there's enough to grab onto.
There's a growing sense of dread in Dead Day as the sun continues to set, especially since we're not exactly sure what is waiting for us. This lends itself to some eerie scenes, such as the Haskins' neighbor, Carl, who we see kill a goat and use its blood to paint his doorframe, like that's going to ward off the dead. He does this in a regular fashion, like he was just painting it a different shade.
Artist Evgeniy Bornyakov paints this picture of normalcy in this town which contrasts well with the foreboding aspect of the dead as they begin to walk. We don't see decaying corpses, but more like stiff bodies that are getting used to moving again.
This is where colorist Juancho! really steals the show with some very ominous shades. We start in your average American town with the sun shining brightly and over the course of the comic we descend into darkness with shadows looming in every direction. It's almost suffocating how it creeps up on you, engulfing you in such a way that it's too late to turn and flee.
One difference between these undead and the zombies we're used to is that these ones speak. They let out guttural growls of hatred as they pursue their targets, raising the level of horror. It's one thing for a dead body to be chasing you, but it's quite another for it to be someone you know yelling obscenities at you while vowing vengeance for some past misdeed.
Dead Day has a great high-concept premise that we're just scratching the surface of. The Haskins family presents a human perspective to this mysterious supernatural event. It will be interesting to see if this holiday (if you can call it that) shatters this happy family or makes them stronger in the end...that is, if they even make it through the night.
Grades:

Story:






Art:
Overall: