"Doctor Crowe #1"

Comic Review

Written by James Ferguson

Published by 215 Ink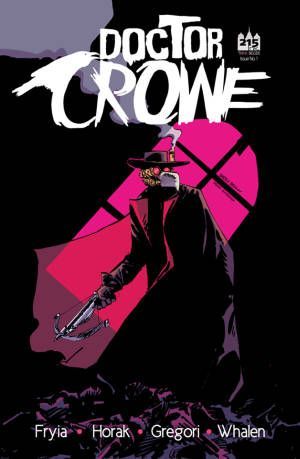 Written by Corey Fryia
Illustrated by Tony Gregori, Felipe Cunha, and Matt Horak
Colored by Joshua Jensen, Jasen Smith, Doug Garback, and Make Dale
2016, 32 Pages
Comic released on January 11th, 2017
Review:
Before you question if you're seeing things, yes, this is a second review for Doctor Crowe #1. The first was the version released through Kickstarter whereas this one is slightly different and published officially through 215 Ink. One of the three stories has been replaced and one has been rewritten. The core of the supernatural adventurer remains the same. The title character works his way through Europe fighting demons, werewolves, and spirits in one of the most badass outfits seen today.
I was pleased to see that my favorite tale from the original version, "Wretched," is still included in this issue. It's still my favorite even with the additional story. It follows the title character into Denmark where he encounters a werewolf in an interesting manner. Lycanthropy is treated like a disease, with symptoms first appearing as a lumpy rash over the body. Before Doctor Crowe can cure a man, his patient transforms into a hideous beast.
Artist Matt Horak's design for the creature is terrifying and cringe-worthy. It's a huge werewolf, towering over normal men, but it has these strange tumor-like growths over large portions of its body. If you were attacked by it, you'd probably prefer a scratch over having to touch one of those boils.
Click image to enlarge
The new tale, "Till Death Do Us Part", has Crowe investigating a haunting in France. It's not much of an investigation, as he seems to know everything there is to know about the building and its former inhabitants. He narrates all of this to his trusty assistant, Nora, in an exposition-heavy few pages. It's helpful to get an understanding of what Crowe is up against, but this comes across dry and loses the momentum built up by the first story. Fortunately, this isn't the last one in the issue, so it's able to pick up again and close out strong.
While we don't know Doctor Crowe's full origin or why he's traveling around the continent battling things that go bump in the night, we don't need to. We're able to jump right into his adventures and learn through his actions. Perhaps we'll learn more of his background at a later date. For now, you can sit back and enjoy.
Grades:

Story:
Art:
Overall:
This page includes affiliate links where Horror DNA may receive a small commission at no extra cost to you.