"Doctor Crowe #1 (Kickstarter Edition)"

Comic Review

Written by James Ferguson

Published by 215 Ink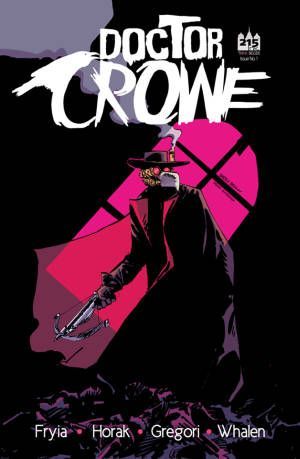 Written by Corey Friya
Illustrated by Tony Gregori, Matt Horak, and Karim Whalen
Colored by Josh Jensen, Doug Garback, Mark Dale, and Laura Lee
2016, 28 Pages
Review:
There is something so cool about a supernatural adventurer. Indiana Jones and Nathan Drake have dabbled in otherworldly affairs, but Hellboy is the king of that particular subset. Doctor Crowe is looking to join this club and there's definitely some heavy influence from Hellboy and Mike Mignola's work, which is certainly not a bad thing. The book follows the title character through four stories of him fighting all kinds of monsters.
Although this is the first issue, it is not an origin tale. That's a good thing, as it would have taken away from the pulpy goodness that is included in these pages. You don't need much of a backstory in this case either. You just need to know that here's a man of science who gets called upon to take on things that go bump in the night...and he's very good at it. I'd love to see his reasons for doing this explored in future issues, but for now it's fun to just get engulfed within the story.
Doctor Crowe is a general practitioner of the supernatural. He doesn't stick to just vampires or demons. He goes after them all. This issue features a werewolf, a coven of witches, a dream spirit, and bog men. My favorite is probably the werewolf, featured in the second tale, "Wretched." It's presented as more of a disease, appearing first as lesions across the body. Artist Matt Horak's depiction of the creature is one of mutated terror. It leaps forth from a bed, enormous in size and covered in disgusting boils. As if the monster itself wasn't scary enough, you'll want a shower after fighting it for fear of catching this sickness.
Much of the enjoyment in Doctor Crowe comes from the design of the title character. He sports a close-fitting jacket that flails out in the back with a cape, a puffy shirt (which is a little strange), and a Deadman top hat. What stands out is his mask, which looks like a steampunk version of the ones plague doctors would wear in the 1600s, with a long beak-like nose. It has a little exhaust pipe on the top, possibly to filter his air supply. It's this touch that makes Crowe appear almost alien, especially since you can't see his eyes.
Click image to enlarge
Although I'm partial to "Wretched," there is not a bad story in the bunch. Each highlights Crowe's skills, albeit he's a little grandiose in his speech. He's good at his job and he knows it, so he's rather cocky about it. This doesn't make him any less cool.
If this is the type of quality adventuring we can expect from Doctor Crowe, I sincerely hope we see more in the near future. This comic is tailor made for fans of Hellboy, with solid supernatural pulp action mixed with top-notch artwork.
Grades:

Story:
Art:
Overall:
This page includes affiliate links where Horror DNA may receive a small commission at no extra cost to you.