"Ghostbusters 101 #2"

Comic Review

Written by Jeff Tolbert

Published by IDW Publishing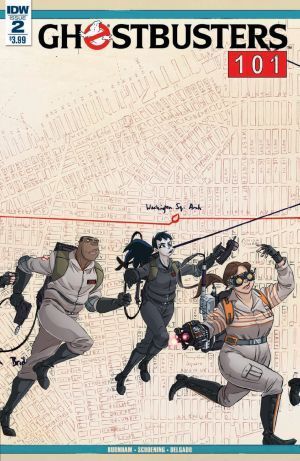 Written by Erik Burnham
Illustrated by Dan Schoening
Colored by Luis Antonio Delgado
2017, 32 pages, $3.99
Comic released on May 3rd, 2017
Review:
Moving forward with their plan to open a space camp-like 'busting class for young people as a way to stave off a massive fine from the EPA, the Ghostbusters have failed to realize that bored teenagers sometimes do dumb things, especially when left alone around active thermonuclear devices. With all the inter-dimensional nonsense they've had to deal with thus far, you'd think the 'Busters would be prepared for portals to be opened to other worlds with potentially disastrous consequences, but that's the price of doing business, when your business is, you know. Busting ghosts.
We already know, of course, that Ghostbusters 101 will serve as a crossover between the IDW continuity and the 2016 film, and while it hasn't quite happened yet by the end of issue 2, they're setting things up for an epic meeting. In the main continuity, the 101 class gets a new member in Garrett, a shy young man with an ailing father who is apparently obsessed with ghosts. Showing Garrett around, the other "students" naturally switch on the dimensional portal thing, which naturally has unforeseen consequences and seems to be the spark that will set off the eventual appearance of Holtzmann et al in the IDW universe.
I won't mince words here: I hated the 2016 Ghostbusters. There. Now that that's out of the way, I love this book. If anyone can make the characters from the recent film interesting, it's the dream team of Burnham, Schoening and Delgado. Some of the 2016 'Busters' jokes are still teeth-grindingly cheesy, but if that's the price I must pay to have the Ghostbusters be awesome again, so be it. (I still hate Kevin, though, and no amount of IDW awesomeness will ever change that.)
There's nothing not to like: Schoening's art is delightfully cartoony as ever, Delgado's colors pop in a really startling way, and Burnham's writing perfectly captures the tone of the various 'Busters. (Much as I hate the special cheesiness of the 2016 film, Burnham gets extra credit for absolutely nailing it here.)
If you haven't read any of the IDW Ghostbusters, you might find yourself a little over your head jumping in here. So much has happened—involving the 1980s The Real Ghostbusters, the Ninja-freaking-Turtles, and more—that it can be a little overwhelming. But everything is so tongue-in-cheek that it doesn't really matter. Burnham and co. have taken the thing I hate most about contemporary comics (i.e., the multiverse) and made it fun. As I think I've said before, read this.
Grades:

Story:








Art:
Overall: