"Godzilla in Hell #2"

Comic Review

Written by James Ferguson

Published by IDW Publishing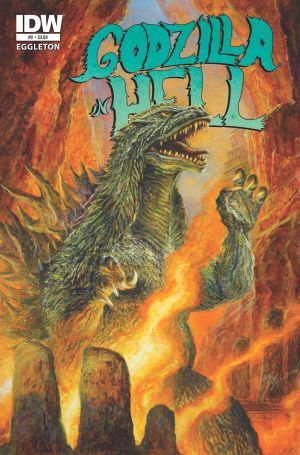 Written and Illustrated by Bob Eggleton
2015, 32 Pages, $3.99
Comic released on August 26th, 2015
Review:
With all the terror and destruction that Godzilla has caused rampaging around the planet, is it any wonder that he ended up in Hell? The King of the Monsters is descending further into the pit where he's forced to battle demonic versions of some of his fiercest foes. With no real buildings to destroy, it's really just a knockdown, drag-out fight between giant monsters in the underworld.
This time around we get some narration, guiding the story a bit. The first issue is presented without a single word. The text is omniscient and epic in scope. It provides some context to Godzilla's journey, but not how he ended up down here in the first place. It almost sounds like what you'd get from a nature documentary.
Writer / artist Bob Eggleton was made to draw Godzilla. This is an absolutely beautiful comic book. His paintings lend themselves to that epic narration. They feel huge in scale. He perfectly captures the essence of Godzilla. You can't look at this comic and not be impressed. It's unlike anything else you'll see on the stands today as it's an entirely different level of quality.
Godzilla makes his way through different levels of Hell fighting a few different enemies. My favorite is the battle with Anguirus on a frozen sea. Ships are stuck in the ice below these monsters as they bite and scratch at each other without a care as to their surroundings. It hammers home the hopelessness of the underworld without dealing with the fire and brimstone.
At the end of the day, this is a comic of big monsters punching other big monsters. There's not much here in terms of substance. The artwork makes up for this to an extent, but there's really not much else to latch on to. It's not like you get into the deep inner workings of Godzilla or even understand why he's fighting these other creatures. He literally walks into a new area and starts swinging. I'd like to know a little bit more or get the smallest hint of character development, but I'm not sure what I was expecting. This is a Godzilla comic. It's about destruction and kaiju. That's it really.
Grades:

Story:






Art:
Overall:
This page includes affiliate links where Horror DNA may receive a small commission at no extra cost to you.