"Goosebumps: Horrors of the Witch House #3"

Comic Review

Written by James Ferguson

Published by IDW Publishing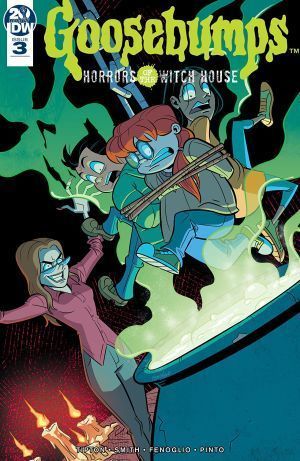 Written by Denton J. Tipton & Matthew Dow Smith
Illustrated by Chris Fenoglio
Colored by Valentina Pinto
Lettered by Christa Miesner
2019, 32 Pages, $3.99
Comic released on July 31st, 2019
Review:
Rosie has finally made some friends, but she hasn't had much time to hang out with them because they're all on the run from Veruca Curry, the witch that's moved into the spooky house in the neighborhood. The entire town is under her spell and that will extend to the entire world if these kids can't stop her.
I absolutely love Chris Fenoglio's artwork. It's such a perfect fit for Goosebumps: Horrors of the Witch House. His style is cartoonish and overly expressive, which complements the tone of the story well. This is an all-ages title and it's impossible to read this without a smile on your face, regardless of how old you are.
Much of this comes from the looks of shock and fear on the face of the kids, especially Rosie. She has this great look to her that's emphasized by her glasses, making it look like her eyes are bugging out of her head.
This contrasts well with Veruca's conniving and evil facial expressions. This comes down to the eyebrows. They're always arched into a suspicious look. She's clearly up to something, staying one step ahead of everyone around her. This is a little funny considering she gives away her entire plan to these kids, including the secret to stopping her.
This is the finale to Goosebumps: Horrors of the Witch House and things are brought to a satisfactory albeit abrupt end. Writers Denton J. Tipton & Matthew Dow Smith deliver a mad dash to the finish line that's packed with energy and excitement. There is a lesson weaved in here too, showing the power of friendship and teamwork.
The intensity in this is amplified by Valentina Pinto's colors. The backgrounds fade away in the more action-heavy sequences, replaced with bright pinks, blues, and yellows, like something out of an anime fight scene. This serves as a juxtaposition to the darker scenes in the earlier pages where Veruca lays out her plan among the shadows.
Letterer Christa Miesner adds the final touch to the finale as Veruca loses control. The witch's dialogue is framed with a bright red border to add some extra exclamation to her screams.
Goosebumps is an absolute classic and a major gateway to horror for an entire generation of kids. I'm glad to see that tradition continue with Horrors of the Witch House. This is a solid comic that's sure to delight new and old fans alike. It matches the same tone that was established years ago by R.L. Stine. This is all-ages horror at its best.
Grades:

Story:






Art:
Overall: