"I Hate This Place #1"

Comic Review

Written by Ricardo Serrano Denis

Published by Image Comics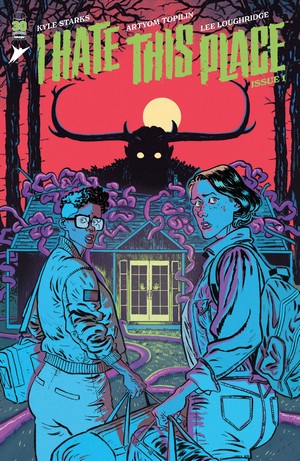 Written by Kyle Starks
Illustrated by Artyom Topilin
Colored by Lee Loughridge
Lettered by Pat Brosseau
2022, 31 pages
Comic released on May 18th, 2022.
Review:
Whenever horror and science fiction meet it mostly tends to be under the latter's terms. Ridley Scott's Alien (1979), for instance, one of the best horror movies of all time, takes place inside a commercial spaceship. It plays out like a haunted house/creature feature story, but a lot of the visual language in it speaks to sci-fi in a commanding voice. Movies like Event Horizon (1997), Cube (1997), and David Cronenberg's The Fly (1986) all bend and twist sci-fi conventions first to then explore them at their most terrifying, to consider the monsters that reside in them from the sci-fi end of the spectrum.
Image Comics new horror series I Hate This Place, written by Kyle Starks and illustrated by Artyom Topilin, hopes to approach this long-standing genre mix by letting horror lead the way in a story that looks at a strange force that attracts both ghosts and things from beyond the stars.
I Hate This Place follows Trudy and Gabby, a couple moving into a ranch, seemingly located in the middle of nowhere, that Gabby inherited from her aunt. The move represents an opportunity to pick themselves up again financially, that is until the ghosts come out and whatever benefit could come out of it turns ugly.
Stark's script finds its strength in Trudy and Gabby's quick but deep character development. Gabby is a glass-half-full type of person whereas Trudy is a worrier with hints of doomsday prepping in her past. They play off each other well and their dialogue exchanges come off as natural and believable, bleeding into their emotional states. When they get scared, you feel it. You want to cling on to them to make sure they escape whatever's coming after them.
Topilin's art carries this aspect of the characters' development well with an eye for body language that often communicates everything you need to know about the couple's closeness to each other without needing text to account for it.
When it comes to the horror, Topilin is unafraid to get his hands dirty with gore. Whatever's at the heart of the story's haunting is bloodthirsty and it goes after its victims with a vicious desire to dismember and maim. Topilin indulges in this in gratifying ways without overdoing it, so we're left to wonder how much worse the scary things in the ranch can get.
Lee Loughridge's colors give the comic a kind of '70s horror vibe but with modern sensibilities. The color palette does cater to the current neon-drenched tastes that feature in the horror movies and comics of recent years, but it's measured. There's just enough to please fans of this style without feeling imposing, especially in night scenes where dark blues and glowing light sources cover the landscape.
The lettering work by Pat Brosseau also shines, especially when it comes to sound effects. Text moves freely across the page in parts, guiding the reader's eye into the dark corners they're coming from. It's loud when it has to be and unobtrusive when it needs to be. Word balloons also flow well and don't bunch up to make for tedious reading. It makes for an easy trip back to this first issue.
The only thing that sticks out as needing more attention is the pacing when the supernatural stuff starts to happen. The characters go from utter shock to quickly accepting the situation and then figuring out how to deal with it. It doesn't affect the storytelling too profoundly, but it is noticeable in how quickly everything starts moving from one point to the next.
I Hate This Place #1 is a strong start that knows the value of keeping some secrets locked up for future issues. It establishes a sense of place and character that makes it hard not to care for the story. Gore and blood abound but more as a promise of things to come. One thing is for sure as far as this first issue is concerned, you'll love hating the place Gabby and Trudy find themselves in, and you'll want more of it sooner rather than later.
Grades:

Story:






Art:
Overall:
This page includes affiliate links where Horror DNA may receive a small commission at no extra cost to you.