"Lady Baltimore: Witch Queens #1"

Comic Review

Written by James Ferguson

Published by Dark Horse Comics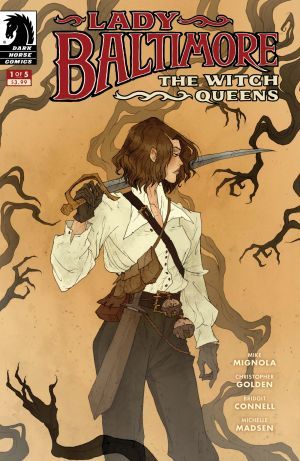 Written by Mike Mignola and Christopher Golden
Illustrated by Bridgit Connell
Colored by Michelle Madsen
Lettered by Clem Robins
2021, 32 Pages, $3.99
Comic released on March 24th, 2021
Review:
Lord Baltimore is dead, but his mission continues. His wife, Sofia Valk, has picked up his sword, wielding it against all kinds of monsters as a new darkness rises. She is not alone though. She's surrounded herself with some strong individuals to aid in this quest, but will it be enough to fight back the forces of evil?
Writers Mike Mignola and Christopher Golden present a very different take on the legacy of Baltimore while maintaining the same overall energy. This is not the stoic, lone wolf warrior - Sofia has a team. Sure, they argue here and there, but they are all in this together. It's a unique vibe that works very well.
I'm spotty on my Baltimore history, however this issue is presented in such a way that you don't need to have read everything that came before it in order to dive in. We get just enough of the background to get us up to speed without bogging this down in a history lesson. More importantly, there's a good introduction to these characters, their personalities, and how they interact with one another.
Central to this, unsurprisingly, is Lady Baltimore herself. Artist Bridgit Connell shows how the character carries the weight of the world on her shoulders. While she may have a team around her, she still shoulders a lot of the burden. This is a personal mission for her.
Letterer Clem Robins adds some context to the communication between the characters, varying the size of the font to convey tone in their speech. This is especially true for the witch they encounter as she shouts all kinds of curses in different tongues.
While the human characters are very expressive and intriguing, it's the monsters that steal the show in Lady Baltimore: Witch Queens #1. There are quite a few on display and they're all pretty terrifying. There are floating eyeballs, big snakes, witches, and more. The detail work on these things is off the charts.
Colorist Michelle Madsen paints a dreary tone for this issue. It's always nighttime as these characters go from one deadly encounter to the next. The sun may never shine on them again at this rate, but their war continues regardless. There are some exceptions to this moody atmosphere, like when a certain kind of magic is used. It stands out like a bright light, adding to the supernatural nature.
Lady Baltimore is a bold first step into the newly established Outerverse, tying together the worlds of Baltimore, Joe Golem, and more. It's a refreshing take on the monster hunter, paying tribute to the character that came before while also building something new and exciting.
Grades:

Story:






Art:
Overall:
This page includes affiliate links where Horror DNA may receive a small commission at no extra cost to you.