"Little Girl #4"

Comic Review

Written by James Ferguson

Published by Devil's Due Comics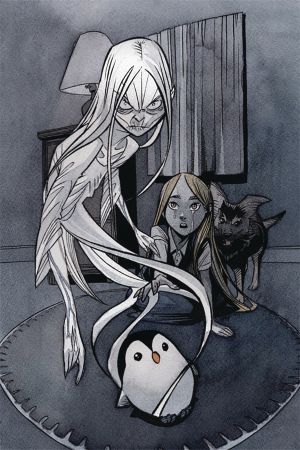 Written by Pat Shand
Illustrated by Olivia Pelaez
Colored by Fran Gamboa with J.C. Ruiz
Lettered by Jim Campbell
2019, 32 Pages, $3.99
Comic released on February 6th, 2019
Review:
Abby May's tortured life has come to an end...or has it? Her angered spirit was tied to her stuffed penguin which has gone up in flames, but there was another that has pulled her back to our world. As we reach the finale of Little Girl, we're given yet another perspective of Abby May's life and find that it wasn't all bad.
Since Abby May has been a ghost, killing people almost indiscriminately while searching for vengeance against her horrible parents, we took what we saw at face value. Writer Pat Shand reveals some additional details that seem to catch even Abby May by surprise.
It's rather incredible how artist Olivia Pelaez is able to convey years worth of family history in just a few panels. It's a flood of emotion that hits the main character like a freight train. It becomes too much for her as she struggles to comprehend this new information. She's bombarded by images of love, sadness, regret, and so much more. While there is some dialogue, it's not entirely necessary.
This leads us to Abby May's real final moments of life in a truly heartbreaking sequence. It seems that the pain and anger suffered at the hands of her biological parents overrode all of the good times she had with others. Pelaez shows this shell of a girl transform from a hideous decaying corpse into something else. Remember that moment in How the Grinch Stole Christmas where his heart grew three sizes that day? It's something like that, but with a living dead girl.
Colorist Fran Gamboa, aided by J.C. Ruiz creates a gloomy atmosphere in Little Girl. Abby May's skin – or what's left of it – is grey and pallid. You can just imagine how unsettling it would be to feel her bony claw-like hands wrap around your throat. This contrasts well with her glowing red eyes, staring down her victims with a menacing glare.
A song plays a key part in the final pages of Little Girl. I'm not usually a fan of songs in comics, but this one really comes through. Letterer Jim Campbell places the lyrics in these perfect spots that convey the most meaning. Each line explains what's going on in the scene without being too on the nose.
It's rare that we get a happy ending in a horror story. I mean, that's kind of the opposite of the term. Little Girl doesn't quite have a happily ever after, but it does end on a somber note, bringing Abby May's journey full circle. It's not your typical ghost story. It's simultaneously terrifying and moving.
Grades:

Story:
Art:
Overall: