"Nailbiter Returns #1"

Comic Review

Written by James Ferguson

Published by Image Comics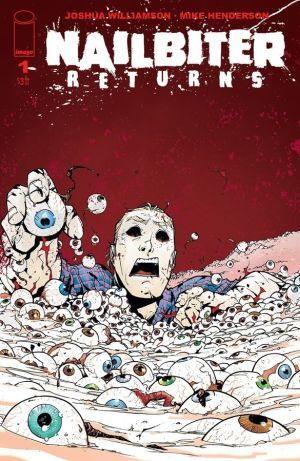 Written by Joshua Williamson
Illustrated by Mike Henderson
Colored by Adam Guzowski
Lettered by John J. Hill
2020, 40 Pages, $3.99
Comic released on June 3rd, 2020
Review:
Nailbiter, one of my favorite horror comics of all time, is back with the aptly titled, Nailbiter Returns. We're heading back to the town of Buckaroo, Oregon where 16 of the world's worst serial killers were born. That mystery was solved...or so we thought.
Nailbiter Returns wastes no time scaring the crap out of you. Seriously, I was creeped out by page 3 as artist Mike Henderson delivers one of the most disturbing spreads I've seen all year. That's just the beginning. This book has an unparalleled amount of tension permeating through every single page. You're constantly waiting for the other shoe to drop and once it does, another one is right behind it, so you're always on edge. It makes for the perfect horror experience.
Although it's been a little while since I last read Nailbiter, writer Joshua Williamson gets us up to speed pretty quickly. I would argue that you don't need to read the original series to enjoy this one, but it obviously helps a great deal. There's more than enough for you to grab onto as a new reader.
Click images to enlarge
It's refreshing to jump back into the lives of these characters, particularly Alice, the son of the Nailbiter himself, Edward Charles Warren. How do you go through life knowing that your dad was not only a notorious serial killer, but one that chewed the nails off his victims before they died? She's adjusted as well as you could expect.
There's a major emphasis on eyes in Nailbiter Returns #1 for reasons that quickly become apparent. You have an idea of this from the cover of this issue, but there's no way you can prepare for how unsettling this will get. If you have ever been creeped out by someone putting in their contacts, you will be cringing at some of the shots in this comic. Henderson gets up close and personal in these images, seeing wide-open eyeballs in the most disturbing way possible.
Colorist Adam Guzowski amplifies every scene with some brilliant work. The shocking scenes are made even more so with some great contrast, such as bright red blood against stark white tile. Meanwhile, the darker scenes take on a dingy, uneasy quality with some nice yellows and shadow work. This is especially true for some long, filthy fingernails we see at one point.
Click images to enlarge
Letterer John J. Hill adds to this scene in particular with a scratchy font that conveys a monstrous tone. This aspect of the series is still shrouded in mystery but it's super intriguing based on what we've seen so far. Hill also has a great panel that partially serves as an exposition dump while also bringing forth the frenetic energy of the scene. The words take over the panel, surrounding a character in a claustrophobic manner.
Nailbiter is back and I could not be happier. The creators have returned to this world and these characters without missing a beat. They have somehow outdone themselves already and I love every bit of it. I didn't think things could get worse than tearing fingernails and then this comic hit and it's one of the most horrifying titles of the year right out of the gate.
Grades:

Story:






Art:
Overall: