"No Heroine #1"

Comic Review

Written by James Ferguson

Published by Source Point Press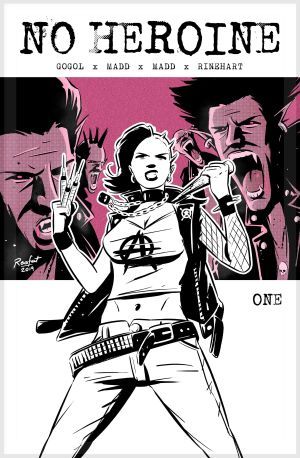 Written by Frank Gogol
Illustrated by Criss Madd
Colored by Shawna Madd
Lettered by Sean Rinehart
2020, 28 Pages, $3.99
Comic released on June 24th, 2020
Review:
Kayla Vasquez is on the road to recovery, celebrating her 90th day free of heroin. Her road has a few extra bumps in it in the form of vampires who have taken in her friend, Sid. He's the only one that can help keep her on this path, so she'll have to do some slaying if she hopes to save her buddy. This is the first step on a whole new journey for Kayla.
No Heroine is obviously influenced by Buffy the Vampire Slayer. Writer Frank Gogol has said as much in interviews too. This is an interesting take on a character like this because Kayla comes from a very different perspective. She's not from the bright and bubbly sunshine, surrounded by friends and loved ones. She's coming from the shadows and she's all alone.
You feel for her early on, especially when she's reaching out to her mother for help. We only see Kayla's side of the conversation and it looks like she's leaving a voicemail that will probably be unanswered. She's an addict and has fallen into some behaviors that have greatly strained the relationships in her life. Hunting down these vampires could be her new addiction.
Most people would freak out a little if they found out about a horde of bloodsuckers living down the street, but Kayla takes it in stride. It makes me wonder if the existence of vampires is public knowledge in this world. It could be that it's only known to those in the underground. In any case, Kayla is expertly skilled at taking them down. It's a little unbelievable that she'd be this good on her first hunt. Buffy wasn't even that skilled.
Criss Madd's artwork has a '90s flair to it, particularly with the action scenes. I love how the panels change up when a fight breaks out. There are some great effects to the borders when a vampire is attacked that really stand out. Some of the character poses are a little awkward, like they're positioned in odd angles or anatomy is a little skewed, but overall, it's some solid line work.
Click image to enlarge
You get the sense of the dark and dingy world that Kayla resides in from Shawna Madd's colors. This is a back alley land of shadows and despair. Kayla's life is full of greys and browns. That changes a bit after her encounter with the vampires. There's an entirely different feel to the final pages of this debut issue, as a new day is literally and metaphorically dawning for our protagonist.
The vampires in No Heroine are a mix of old and new looks. They look pale and sickly yet full of strength. Letterer Sean Rinehart gives them a gruff voice with a scratchy font and word balloons that look carved out of the sky.
No Heroine gives new hope for Kayla as she embarks on a new and terrifying chapter in her life. There's still some work to be done in developing her as a character and fleshing out this world, but there's more than enough to grab onto here. There are some great concepts introduced and I'm eager to see how the creators play with them in subsequent issues.
Grades:

Story:


Art:
Overall: