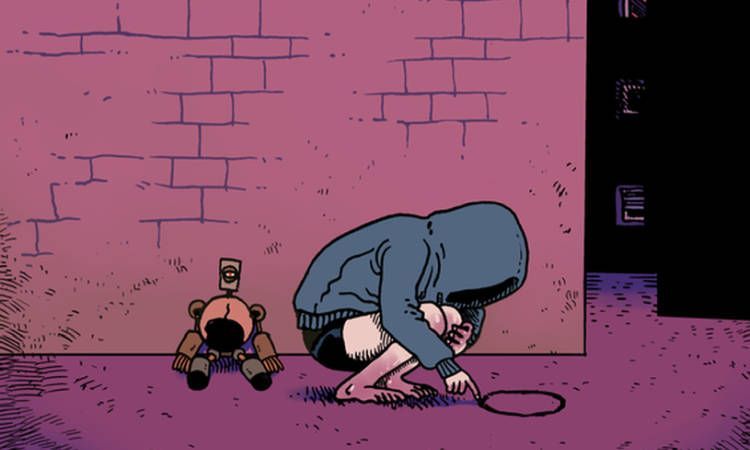 "Purgatory #1 - #4"

Comic Review

Written by James Ferguson
Written by Don Juan Mancha III
Illustrated by Anubisazp
2014
Review:
Where do we go when we die? For some folks, you roam around Purgatory in a sort of second life. You're not quite alive, but not you're not really dead yet either. You could try walking the straight and narrow path in an effort to be redeemed for your sins...or you could join the mob. Ryan is somewhere in the middle, just trying to get by, but that changes when he runs into Emi, a strange girl with mysterious powers who pulls him into all sorts of trouble.
Purgatory really lives up to its name. This is a place of little to no hope. Artist Anubisazp creates a drab, lifeless landscape where most people are just going through the motions. The comic is presented in black-and-white, without even a shade of grey to stand out. This aids in the overall tone of the book. I wonder what it would be like if Emi was shown in another color to further differentiate her from the rest.
Ryan comes off as a bit of a loser. He gets pushed around at home and out in the world and just kind of takes it. This comes through in his design and how he carries himself. He doesn't quite rise up within the first four issues, but you can see the glimmer of something more.
Emi is a bit of a contrast to this. She's still rather unsure of herself at times. She's only twelve years old after all. Her interactions with a strange demonic entity give her a boost of confidence, like she knows this monster is in her corner. We don't know a lot about this yet, but it's clear this thing is dangerous and powerful.
By the end of the fourth chapter, writer Don Juan Mancha III introduces a bit more mythos to Purgatory, hinting at the larger story at play. It might have started as a tale of the afterlife, but this rises it up to something much bigger. While we've gone through four chapters with Ryan, Emi, and this world, there's still quite a lot to learn about them all, so I'm cautious about it going too big, too soon. Purgatory wallows in melancholy with some horror, drama, and a pinch of humor mixed in.
Purgatory can be read online at its official website.
Grades:

Story:


Art:
Overall: