"Regression #3"

Comic Review

Written by James Ferguson

Published by Image Comics
Written by Cullen Bunn
Illustrated by Danny Luckert
Colored by Marie Enger
2017, 32 Pages, $3.99
Comic released on July 12th, 2017
Review:
Adrian's past lives are coming back to haunt him, specifically a killer from years and years ago. This guy was into some dark stuff and it's starting to seep into the present through Adrian, killing others and leaving a trail of blood right to his doorstep. Are his eyes just playing tricks on him? How much of this is real? How much is Adrian responsible for?
These questions are at the heart of Regression and they are just a few of the things that make this such a compelling read. The truth as to what happened when Adrian went under some regression hypnosis is starting to dawn on him, primarily because it's starting to manifest right before his eyes. This malevolent force has been locked up for centuries. Now it sees a way out and it's willing to do anything to break free.
This is not a comic for anyone that is deathly afraid of bugs. They appear in all shapes and sizes and in abundance. Artist Danny Luckert really knows how to display these creatures in a way to make you squirm. There are little things, like a handful of flies buzzing around Adrian's apartment, then there's a big one, like a giant centipede crawling into his ear. Think about that one for a second. A huge centipede with dozens of legs burrowing right into your head. That's terrifying.
Regression balances these creepy moments with all-out gore and some nice subtle scares. It's these last ones that really got me. There is one sequence in particular that made me jump and shout, "What the hell is that!?" It's just two panels where Adrian is in his apartment, but something is going on in the background that you almost don't notice at first. When you do, you might want to check your pants.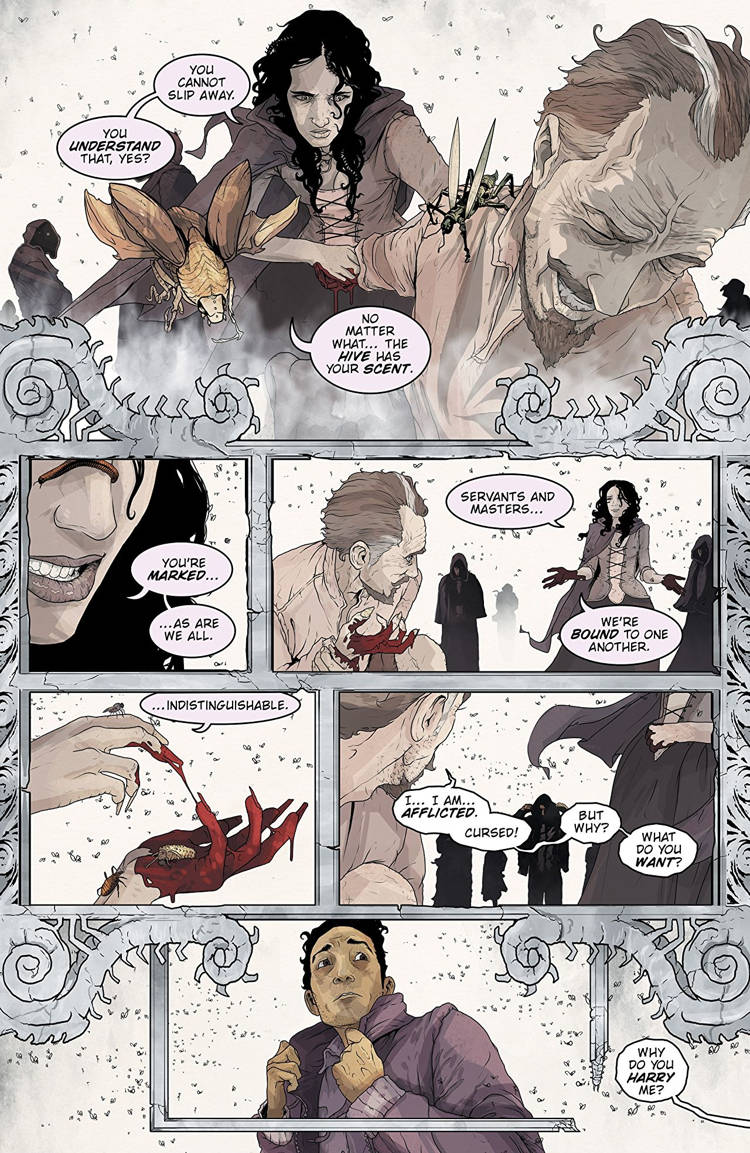 Click image to enlarge
Adrian's home has this lived-in yet decrepit feel to it. This comes through in Marie Enger's colors. The whole place has the color of flypaper, left out too long in the sun. It comes across as old and in dire need of maintenance. It's no wonder the flies are buzzing around.
So much of Regression to date has been buildup as writer Cullen Bunn diligently placed all of the pieces on the board. This issue is where he starts knocking them off one by one. This is where the chaos starts and things get really crazy. Boy, does it deliver. Regression will get under your skin. It will shake you to your core. This is a damn scary comic.
Grades:

Story:






Art:
Overall: