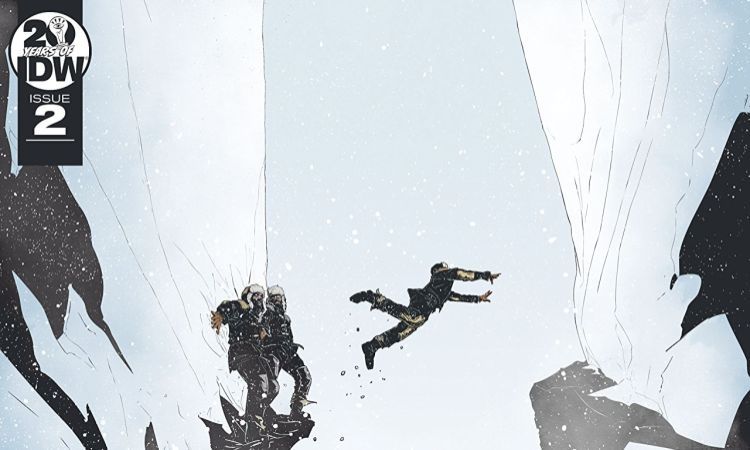 "Road of Bones #2"

Comic Review

Written by James Ferguson

Published by IDW Publishing
Written by Rich Douek
Illustrated by Alex Cormack
Lettered by Justin Birch
2019, 32 Pages, $3.99
Comic released on June 26th, 2019
Review:
Roman, Sergei, and Grigori have escaped the horrifying Kolyma Gulag, but they might have been better off behind bars. Now they're dealing with a harsh, freezing terrain and their supplies are dwindling with each passing day. Also, there's a monster out here on the tundra and its true intentions are still a bit of a mystery. All in all, it's not a great time for these guys.
As you can see, the terror in Road of Bones comes from all angles. These men face danger in every direction, even when they face each other. This issue is a frightening journey through a frozen landscape as tensions steadily rise. They start sniping at one another as their plan starts to fall apart.
Artist Alex Cormack drives home just how alone and isolated these guys are. There are some gorgeous shots of this wide expanse showing the snowy and desolate mountainside. Under other circumstances, you might take a picture of this serene spot and make a motivational poster about it. In this case, these three men are hoping salvation, or at least a warm bed, lies just around the next bend.
While the dangers are apparent between the three, the fourth member of their party lurks in the distance, waiting for an opportune moment to strike. This creature, shown at the end of the first issue in all his unsettling glory, pops up in the background of a few scenes, reminding us that he's still a constant threat. Even if these guys can get through the mountains, they'll still have to deal with this monster.
You can't really do jump scares in comics, but the way this thing is inserted into Road of Bones #2 is a great example of shock and terror. You never expect him, so when he shows up it's a jolt to the system. His white teeth from his sickly grin cut through the darkness.
This issue has a great pace, starting with the sun rises and ending with the moon high in the sky. This also parallels the fugitives' descent as hope dwindles away the longer they're out in the snow. They start out with the promise of a hunting cabin nearby and end up ready to tear each other's throats out. The former is shown with bright reds and oranges while the latter is shrouded in darkness.
Much of Road of Bones #2 consists of Roman, Sergei, and Grigori talking to each other on this trip. Letterer Justin Birch has some solid word balloon placement that walks us through each panel. Your eye is guided along to go from image to image in a seamless fashion.
Road of Bones hooked me with a great premise in the debut issue. This chapter pulls me into this compelling journey of these three unlikely allies. Writer Rich Douek puts you in their shoes, wondering what might kill them first. It's saying something when the biggest threat isn't from the literal monster lurking in the shadows, but from each other.
Grades:

Story:






Art:
Overall: