"Scooby Apocalypse #13"

Comic Review

Written by James Ferguson

Published by DC Comics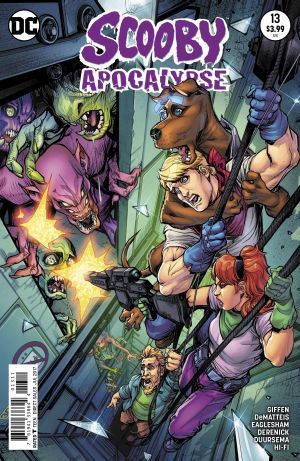 Written by Keith Giffen & J.M. DeMatteis
Illustrated by Dave Eaglesham, Tom Derenick, and Jan Duursema
2017, 32 Pages, $3.99
Comic released on May 10th, 2017
Review:
Velma, Daphne, Fred, Shaggy, and Scooby Doo have been making their way through a post-apocalyptic world after the rest of humanity has been turned into monsters. A glimmer of hope lies in Velma's businessman brother, Rufus, who may have the resources needed to find a cure and fix this mess. This is hindered after Rufus tries to shoot them right when they walk in the door of his fancy penthouse apartment. Meanwhile, the monsters are organizing on the streets and it doesn't look like this will be a safe haven for much longer.
The character of Rufus is a thinly veiled parody of Donald Trump. He's a bloated, narcissistic, womanizer obsessed with controlling the masses, even if they're all monsters now. The only reason he's still alive is that he was in the right place at the right time. He gets some comeuppance as Velma finally stands up for herself and takes matters into her own hands.
My struggle with Scooby Apocalypse is that the characters are aimless. It took an entire year of stories for Velma to realize what really caused the plague even though she was directly involved. Now they're haphazardly trying to find a cure, but mostly just driving around in the Mystery Machine trying to survive.
The saving grace in this book has always been the artwork, specifically the monster designs. You will never see the same creature twice. There are big ones, small ones, some with tentacles, some with claws. One is just a head on top of a hand. There's a leader of sorts on display in this issue that's a gelatinous blob of heads and feet. The monsters show a new level of terror in that they're organizing now, seemingly working together for some unknown common cause. It's one thing when they're all mindless beasts, but it's quite another when there's some thought behind their actions.
As a special treat, this issue also features a backup story starring everyone's least favorite Scooby Doo character, Scrappy Doo, along with a one-armed boy named Cliffy that has been creepily taken in as Scrappy's pet. This whole relationship is really weird. Scrappy has transformed into a werewolf and he leads a pack of dogs with technological implants making them smarter than your average canine. He's the only one capable of speech and this weird transformation.
We're thirteen issues in and I still don't know who Scooby Apocalypse is for. It's a mediocre monster comic and it's not a great Scooby Doo story. It doesn't build off of the decades-old characters or make use of the traits that people cared about. Instead, it throws these imitations into a world filled with dangerous creatures, forcing them to be constantly on the run. This issue features some rarely seen character development with Velma, but it's something that should have happened ages ago. Hopefully now that she's showing some backbone we'll get some answers and actually move this plot along.
Grades:

Story:






Art:
Overall:
This page includes affiliate links where Horror DNA may receive a small commission at no extra cost to you.