"Something is Killing the Children #3"

Comic Review

Written by James Ferguson

Published by BOOM! Studios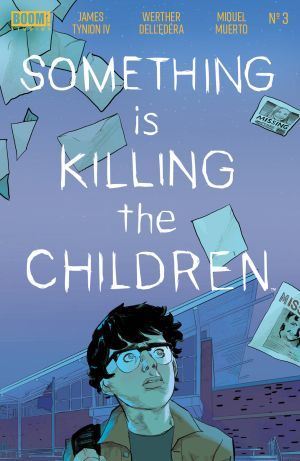 Written by James Tynioon IV
Illustrated by Werther Dell'Edera
Colored by Miquel Muerto
Lettered by Andworld Design
2019, 32 Pages, $3.99
Comic released on November 20th, 2019
Review:
Things have gone from bad to worse in Archer's Peak. First some kids went missing, then they turned up dead. Erica Slaughter, a mysterious and possibly crazy woman has rolled into town claiming to be able to stop all this madness. The townsfolk just have to trust her. A battle between fear and desperation unfolds in Something is Killing the Children #3.
This issue gives you a true sense of just how much the town has been rocked by these murders. The people are broken and suspicious of everyone and everything because there's not a single good answer as to this. Writer James Tynion IV really drives this point home in a great scene where the sheriff breaks down, yelling that these kind of things just don't happen here. The people can't come to grips with the horrors that face them.
Colorist Miquel Muerto casts a dreary haze over Archer's Peak. Sure, this is Anytown, USA, but there's a darkness to it. The sun shines, but not as bright, like it's permanently overcast. The life has been sucked out of this place, leaving a cold husk fueled by pain and regret.
Then there's Erica. Think about all the monster hunter stories you've seen in various mediums. You usually just see things from the main character's perspective. They pop in, pull a fast one on local law enforcement, take out the baddie and head out. That's not really how things would flow, especially in a situation like this. Erica is detained and questioned out the wazoo. Even though she just got here, she appears to have some kind of connection with whatever is killing these kids and the cops are going to wring it out of her if it's the last thing they do.
Erica has clearly been through this before. She goes through the questioning with an aloof attitude since she knows how this is all going to play out. Artist Werther Dell'Edera has a great design for her, with her hair obscuring half her face, including one of her eyes. It makes the visible one appear large and rather eerie, like it's always wide open and staring deep into your soul.
She's shown in a tank top in the interrogation room, revealing the scars that cover her arms. It's no wonder she wears a big, bulky coat, to hide these. It's like Erica is more comfortable with the monsters. It's the prying eyes of normal people that cause her to wrap herself in this and hide from sight.
I can get behind monsters and the supernatural, but there's a really weird aspect of Erica that I'm still trying to understand. See, she talks to a stuffed octopus...and it talks back. Letterer Andworld Design uses a scratchy font in roughly-shaped word balloons for the little guy's voice. I'm very curious as to what's going on with this stuffed animal and how it plays into Erica's tactics.
Something is Killing the Children #3 opens with a frightening scene of a girl running from a monster. It's dark and bloody, offering only a few glimpses as to the creature that's tearing this poor child's house and family apart. This is a great way to start the issue, as it sets you on edge for the rest of the book. We don't reach those same levels of intensity in this issue, but you're constantly waiting for the other shoe to drop. If this is how the chapter can begin, these terrors could come at any moment.
Something is Killing the Children is as unsettling as it is poignant. This town has been shaken to its core by these murders. They're desperate for answers and none are coming except for this strange girl who claims she can stop all this if everyone just gets out of her way. When you're trying to make sense of something so tragic, can you lose a bit of your sanity for it to stop?
Grades:

Story:








Art:
Overall: