"The Dollhouse Family #6"

Comic Review

Written by James Ferguson

Published by DC Comics / Hill House Comics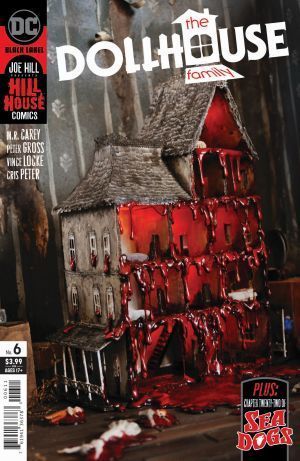 Written by M.R. Carey
Layouts by Peter Gross
Finishes by Vince Locke
Colored by Cris Peter
Lettered by Todd Klein
2020, 29 Pages, $3.99
Comic released on May 19th, 2020
Review:
Alice has been dealt a bum hand in life, but the one shining light in all that gloom was her daughter, Una, and this horrible monster of a Dollhouse has just captured the poor girl. This will not stand. This demonic entity has taken too much, not only from Alice, but her entire family, for generations. It all comes down to this.
The Dollhouse Family gets bigger, scarier, and weirder with this issue. It had really upped its game in the previous chapter and this one just went for it in the best possible way. Writer M.R. Carey defines the parameters of this mysterious creature that's been plaguing Alice's family for ages and it's absolutely insane. It's risky to introduce something like this so late in the game, but it totally works here. The dollhouse and the different time periods created a whole lot of questions and while this brings up some new ones, it answers even more, transforming this series from an unsettling horror tale to a cosmic one.
That kind of terror changes the game. It's one thing to avoid a possessed dollhouse in your closet. You can just close the door. It's quite another to stay away from a demonic god hellbent on destroying the world through your bloodline. These huge concepts are introduced, explained, and built upon in a very short amount of time. While it is a bit exposition heavy at times, it is completely enthralling, so it never feels boring.
Artists Peter Gross and Vince Locke deliver the perfect visuals to match up to this terror. This is especially true for Cloax, the demonic entity behind the dollhouse. It's like a shifting mass of flesh covered in eyes and teeth. Just writing that sentence makes me want to throw up.
This is balanced with the earnest determination in Alice's face as she readies herself for battle. She has been pushed around for too long and she's not going to take it anymore. For perhaps the first time in her life, she's taking charge of her destiny. There is no doubt in her. This is admirable, particularly when she faces off against Cloax. Remember all those teeth and eyes? Yeah, any normal person would have turned tail and ran, but not Alice. Her daughter is in danger and she's going to kick this thing's ass.
Colorist Cris Peter paints a sickening visage in The Dollhouse Family #6. Cloax is shown in this disgusting pinkish hue. It's unnatural and super creepy. This contrasts with the quaint nature of the dollhouse itself, which looks like your average kid's toy, albeit with an older appearance. Then there's the blood! It pops on the page with bright bursts of energy. A horror comic can succeed or fail based on how it handles the blood and this one does a brilliant job with it.
As if Cloax's general appearance and color wasn't enough to send a shiver up your spine, letterer Todd Klein gives is a monstrous voice with a hint of the fantastic. You get an idea of just how ancient and powerful it is based on the font used.
The Dollhouse Family reaches a conclusion with this issue, but it's clear this isn't the conclusion. There's more to this story, yet this works as an incredibly satisfying wrap-up to this terrifying tale. It bridges a few different horror sub-genres and delivers on each and every one. This is big, bold horror.
Grades:

Story:




Art:
Overall: