"The October Faction #1" Comic Review
Written by James Ferguson
Published by IDW Publishing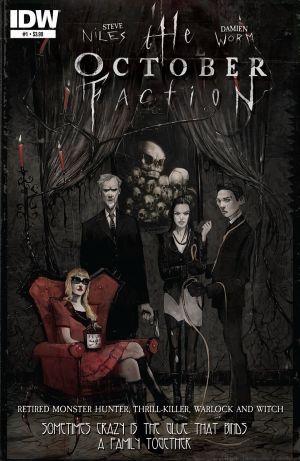 Written by Steve Niles
Illustrated by Damien Worm
2014, 32 Pages, $3.99
Comic released on October 8th, 2014
Review:
I've seen my fair share of dysfunctional families in everything from Jerry Springer to The Simpsons, but the Allans in The October Faction might take the cake. The patriarch Fredrick is a retired monster hunter, now teaching at a local university. His son Geoff has been dabbling with some dark magic and dealing with ghosts. His daughter Vivian is a witch. I have no idea what his wife Deloris is up to, but it doesn't look good. It's one thing to have a pair of unruly teenagers, but it's quite another when they're playing with evil spirits.
The debut issue of The October Faction reads like a day in the life of the Allans. It shows glimpses of what each of them are currently doing and gives you a rough idea of their personalities. It also flashes back to Fredrick's glory days battling monsters. It's interesting to see the disparity between the brazen adventurer he was and the shriveled old professor he has become. When he hears some news that should shock and appall him, he basically shrugs and goes about his day. There's nothing he can really do about it. This is a stark contrast to the flashbacks of him mowing down vampires with his car or jumping into a battle with guns blazing.
It feels like we're checking in on this family at the moment before everything falls apart. They've been coasting for some time and now that dear old dad is retired from the monster-hunting business, there's a monkey wrench thrown into the mix. There's little to no interaction between the family members in this issue, but you see how their actions are going to have some dire consequences for each other.
Damien Worm's artwork is suitably dark and brooding for The October Faction. Every page looks like it's just been found within an ancient tome with strange splatters and patterns spread about. There's one panel that looks like it was drawn on a blood-stained piece of paper. It's a nice effect that goes with the scene of ghosts haunting a bully bothering Geoff.
There's no real symmetry in Worm's world. Everything is a little off and unbalanced. It helps set the ominous tone of the story. There are no bright, shiny lights. Everything is gloomy and filled with shadows. There's a full page image showing Vivian walking into the Allan family home and the place looks like the amalgamation of every haunted house you've ever seen. This is the house that kids skip while trick-or-treating on Halloween.
The October Faction offers a brief glimpse into the lives of a very strange group of people. They're like a grown up, more serious version of the Addams Family. There's not a lot to go on just yet, but I'm interested to see where the story is going to take these folks, especially when they start interacting a bit more. Can you imagine what a family dinner must be like in that house?
Grades:

Story:






Art:
Overall:
This page includes affiliate links where Horror DNA may receive a small commission at no extra cost to you.