"The Walking Dead: Volume 2 - Miles Behind Us" Graphic Novel Review
Written by James "Spez" Ferguson

Published by Image Comics
Written by Robert Kirkman
Illustrated by Charlie Adlard
2004, Fiction
Originally Released as The Walking Dead #7 - 12
Graphic Novel released on December 30th, 2006


(By reading this review, I'm assuming you've read The Walking Dead: Volume 1 - Days Gone Bye. If not, go do that before reading this review because there's going to be some spoilers ahead. You've been warned.)
Review:
Some winters can be real tough. There can be a lot of snow and traveling can be a burden. Money could be tight so buying gifts during the holiday season is a challenge. Or, in the case of Rick Grimes and his group, the undead could rise and hunger for your flesh. These survivors are now in search for a better place to stay. They've left the thought of rescue behind along with their campsite just outside of Atlanta. Piled into an RV, they've made a slow journey which is made even longer due to the frequent stops to move abandoned vehicles.

On one such stop, they meet Tyreese, a father looking for shelter for his daughter, her boyfriend and himself. Tyreese is welcomed in to the group and he strikes up a friendship with Rick from the start. Soon after they find what looks like a perfect new home: A gated community. Everything looks great. There are no people and plenty of food and supplies. This looks like a place that they can all regroup and retain some semblance of a normal life. Unfortunately, the place is filled with zombies. It seems that anyone that survived from that area sealed the place up to keep the dead in instead of letting them wander out into the world.

After abandoning this, Rick's boy Carl is shot by a hunter. He's brought to a local farm where a man named Hershel lives with his family and some neighbors. Again the group of survivors is filled with hope. This seems to be another perfect place to settle down. Hershel doesn't see it that way, though. He fixes up Carl, but once the boy's healed, Hershel expects them to be on their way. Even though he's got the extra room, the man wants nothing to do with Rick and his friends.

This is what keeps The Walking Dead interesting. Robert Kirkman writes good drama. Despite the fact that zombies now roam the earth, there are still some very human troubles that these characters have to face. Hershel is a grumpy old man who is set in his ways. He has a very different set of beliefs regarding the zombies than Rick does because he's encountered them in an entirely different, but equally horrifying way. They're both looking out for what's best for their families and friends and, in a way, both of them are right.

To add to all this, Kirkman weaves in something I did not expect: Rick's wife, Lori, is pregnant. The thing is that she doesn't know who the father is. When Rick was in his coma and they were traveling with Shane, the two of them got together. Rick knows of the possibility that this new child could be Shane's and he tries desperately to push it away and not think about it. Regardless of what he may show on the outside, Rick is a very fragile man. Other people have outright lost it, but he's holding on. However this might all be a show because when pushed about a topic like this or when Carl gets shot, he's stark raving mad.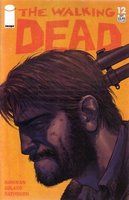 The minor characters of the book start to get fleshed out more, as well. Kirkman has a talent for writing in layers. There are many things going on in each issue and they all serve to push the overall story along. In this volume alone, there's a budding romance between Tyreese and Carol, one of the survivors, a passionate love affair between the older widower Dale and the college co-ed Andrea who lost her sister in the previous volume, and something fishy going on between Tyreese's daughter Julie and her boyfriend Chris. And that's just the tip of the iceberg of the problems these characters face.

Charlie Adlard steps in as the regular artist with this volume and if I didn't read about the change, I wouldn't have noticed the difference. He does a great job in keeping the style consistent which is something that is very hard to do in comics. The black and white pencils illustrate the drab existence that these travelers now have. Morale is low and life is serious. The zombies take a slight backseat in this book but they're still very much a part of the story. I think there's only one zombie in the entire first issue here. When they do come up, though, Adlard's art brings them out in full force. I do have to give him credit, too, because no two zombies look alike. They're all unique designs. I have also heard that he's drawn in real people as zombies throughout the run of the book. If you've seen any, please point them out!

Volume 2 features an afterword written by Simon Pegg (Shaun of the Dead) praising the book and the genre in general. That's all the bonus material included, though. Again, I'm disappointed that the fantastic covers by Tony Moore aren't showcased here. Although as with the first volume, these issues flow together so perfectly that I don't know where one issue ends and the next begins.

The Walking Dead continues to be the zombie movie that doesn't end. Kirkman covers a lot of ground in this book and brings up some great ideas for places that would be ideal for fighting off the undead. A gated community would be a perfect place to hideout assuming it's not already filled with zombies. A farm would be another. Throughout all of this, though, the characters are still human beings and they're prone to the same flaws that we are today.
Grades:

Story:
Art:
Overall:
This page includes affiliate links where Horror DNA may receive a small commission at no extra cost to you.