"Toe Tag Riot #4"

Comic Review

Written by James Ferguson

Published by Black Mask Studios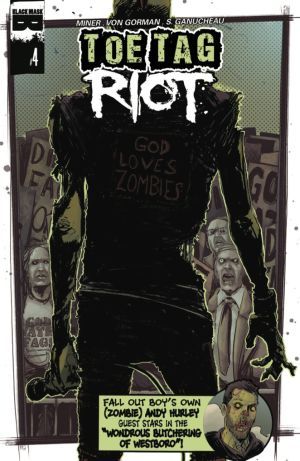 Written by Matt Miner
Illustrated by Sean Von Gorman
2015, 32 Pages, $3.99
Comic released on April 15th, 2015
Review:
It's been an epic ride for the members of zombie punk rock band Toe Tag Riot as they've toured across the country. They've faced the Dreaded Dude-Bros, the Menacing Million Moms, and the Sinister Skinheads. Now the band is up against its greatest challenge yet: The Westboro Baptist Church. (I didn't have to put a scary sounding adjective in front of that name. When I typed it, a lightning bolt fell from the sky.) The group is taking the fight to the Church's doorstep, ready to rock out with a horde of rabid fans cheering them on. Let's get this party started.
This final issue of Toe Tag Riot feels like one big in-joke. If you've been along for the ride so far, you're going to love it. Dickie and the gang zombie-out and begin tearing the ever-loving shit out of the Westboro clan. It's exactly what you'd expect. There are some familiar faces in the crowd, including some other musicians such as Gerard Way and the new honorary band member, Andy Hurley. I'm sure there are others that I just didn't recognize.
It's hard to decide what I liked more: The Westboro Baptist folks loading up for war with cowboy hats and ridiculous signs or the buckets of blood and gore that flow once the band starts playing. Who am I kidding? It's the blood and gore. This issue is packed with it. There are bayonets on guitars. One guy literally gets ripped in half. Intestines are sprawled out everywhere. Artist Sean Von Gorman delivers in spades.
There's one particular panel where the band is transforming into zombies that's particularly awesome. Dickie stands out as his face is half human / half zombie. It's a really cool effect. Additionally, there's a bouquet made of human fingers and eyeballs in this comic. 'Nuff said really.
The final fate of Fred Phelps (at least in this comic. I know he's dead in real life.) is so sweet and definitely fitting with the tone of Toe Tag Riot. This is a parody book that's loaded with gags, but it's got a great message of acceptance permeating through it. It doesn't matter if you're straight, gay, or zombie. You can still have a good time without being a total dick to everyone else. Phelps is depicted as a loony old man, constantly muttering words like "queers" and "homos." He's certainly not a villain or anything to fear.
There's also a not-so-subtle nod to Brian De Palma's 1974 film, Phantom of the Paradise. Writer Matt Miner works this in seamlessly and any fans of the movie will find a lot to enjoy. It's the kind of thing that makes total sense and works very well with the conclusion of the series. If you haven't seen Phantom of the Paradise, you'll miss out on a few of the gags or connections with the ending, but it won't hamper the experience in any way. It's like an Easter egg, albeit a very large, impossible-to-miss one.
There are also four pretty stellar pin-ups included in the back of the issue from a variety of artists. My personal favorite is the one from Joe Mulvey, showing the band playing in front of an old guy that I'm assuming is Phelps. Dickie is front and center and looks absolutely amazing as beer bottles fly through the air overhead.
Toe Tag Riot is a gore-filled romp of a comic, destroying everything normal people hate about the world. It's taken on ridiculous stereotypes by literally eviscerating them without ever losing sight of the overall message of acceptance and – perhaps most importantly – never getting preachy. It's not like the band pops up at the end and reminds everyone to be cool. Instead it's a bunch of friends having fun and flipping a big middle finger at the bigots and the other assorted douchebags out there.
Grades:

Story:


Art:
Overall:
This page includes affiliate links where Horror DNA may receive a small commission at no extra cost to you.