"Varney the Vampire #1" Comic Review
Written by James Ferguson
Published by Thrillbent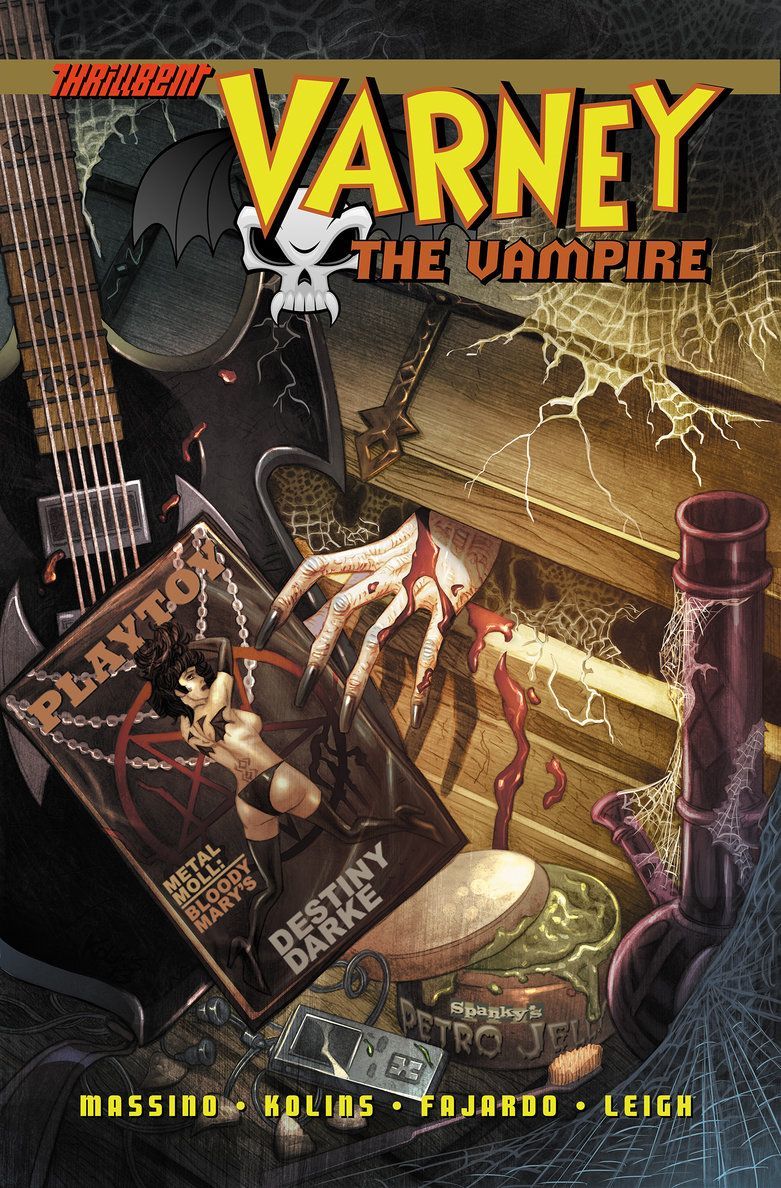 Written by Scott Massino
Illustrated by Scott Kolins
2014, 22 Pages
Review:
Bram Stoker's Dracula is one of the quintessential horror stories. From it stemmed an entire sub-genre about vampires from the badass to the sparkly. But where did Stoker get the idea? Scott Massino and Scott Kolins have the answer and are revealing it in the comic Varney the Vampire. It turns out that Stoker based the entire Dracula mythos on a real life vampire named Sir Runnagate Bannersworth. Now, all these years later, Bannersworth (aka Varney) is looking to set the record straight and get all that fame and glory he's missed out on all these years. Varney intends to do all this with the help of a distant relative who's also a down-and-out screenwriter named Simon Gruber. The plan is to tell the full story via a new film.

This pair is an unlikely team. Neither seem very competent. Varney's greatest accomplishments of late is a near high score on Guitar Hero. Meanwhile, Gruber has been suffering from writer's block, unable to finish his latest screenplay for the sequel to Zombie Cheerleaders. This seems to be a great opportunity for both of them to get out of their respective funks.


What's great about Varney is that he's far from your average vampire. He's not suave or handsome. He was turned when he was in his sixties so he looks like a paler version of Uncle Leo from Seinfeld, but about two feet shorter. He can't control some of his urges, so he feasts on a rat in mid-conversation with Gruber. He's like the version of a vampire that we all expect, but never see: a total asshole. A big part of this characterization is due to artist Scott Kolins' depiction of him. He's on the short side, with an awful haircut and a scalp covered in liver spots. Varney is far from intimidating, so I'll be interested to see how Stoker took his life and turned it into the legend of Dracula.

Varney the Vampire is a mature title, so there are not only curses galore but full-on nudity. This is handled on the borderline of tasteless. The one nude shot in the comic is an image of the title character biting the neck of a beautiful woman with her dress pulled down to reveal her breasts. Varney is eating and muttering to himself "Titties..." It's a childish line and unfortunately, it's not the only one. He makes reference to getting "more ass than Justin Bieber at the Nick Teen Choice Awards" that just feels sad. His comments about Stoker and Bela Lugosi feel more genuine and help get passed the immature bits. I guess one could argue that this is what Varney is as a character. The portrait of him in the family mansion shows him with his tongue between two fingers while flipping the bird with the other hand. Classy.


Gruber's life is pathetic and it shows every time we see him at rest. Within the first few pages, he's meditating in a dirty bathrobe amidst past due bills and assorted junk. Then when he goes to meet Varney, he's sleeping with a face mask and breathing device while Star Wars parody porn plays on a nearby TV. Oh, and he's also carrying around an urn containing his mother's ashes wherever he goes.

Kolins balances the comedy with the horror well throughout the issue. The aforementioned scenes of Gruber's world say so much more about the character than author Scott Massino does (or needs to do) in the text. When Varney shows his true colors, he's like something out of a nightmare with his fangs flashing and hate in his eyes at the mention of Stoker.

You can currently read the first chapter of Varney the Vampire at no charge at the Thrillbent website. The rest of the comic will be released there for free in time, but not before the comic is released in print through a Kickstarter campaign. This is a pretty enjoyable book that doesn't take itself too seriously. It pokes fun at a sub-genre of horror that has become rather stuffy over the years. There are slim pickings when it comes to horror comedies in comics, so I'm looking forward to what else the creators have in store for Varney and what other debauchery he gets into. Plus, I really hope he gets that high score in Guitar Hero.
Grades:

Story:
Art:
Overall:
This page includes affiliate links where Horror DNA may receive a small commission at no extra cost to you.