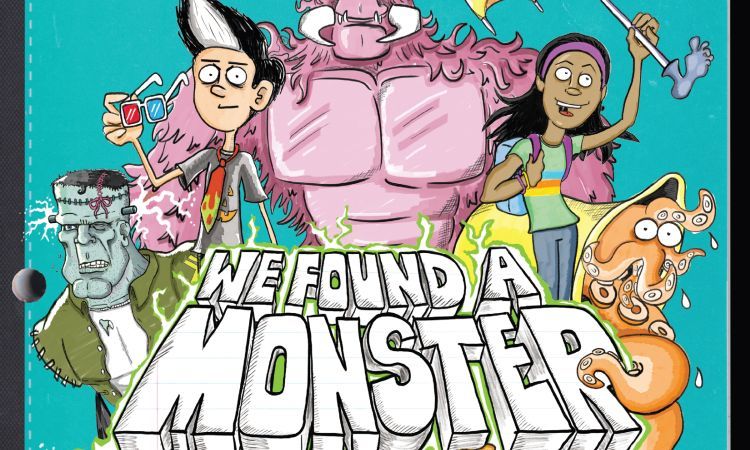 "We Found A Monster"

Comic Review

Written by James Ferguson

Published by DC Comics
Written and illustrated by Kirk Scroggs
Lettered by Steve Wands
2021, 160 Pages
Graphic novel released on January 12th, 2021
Review:
Casey Clive is a kid most of us can relate to; He's a bit of a loner and he loves monster movies so it's no wonder that these strange and bizarre creatures seem drawn to him. He already has a few living in his house, unbeknownst to his father. When he finds one more needing help thanks to the new kid in town, Zandra, he might be at his breaking point. That doesn't mean he won't take the monster in though...
As with the Secret Spiral of Swamp Kid, Kirk Scroggs' previous all-ages graphic novel from DC, We Found a Monster is told in a journal style. Casey is telling the story through a diary of sorts with text entries, images, and dialogue. This makes for a fun and unique reading experience and very much in the character's voice.
Scroggs' artwork is a perfect fit for this cartoony glimpse into the monstrous side of the DC Universe. Casey looks like a future horror host with his jet-black hair tinged with a white streak, not to mention the bags under his eyes. The monsters are weird and a little creepy, but they're not going to give your kids nightmare. For example, this version of Frankenstein's creation is more laid back, relaxing with some tunes instead of terrorizing the town. Sure, he's made of dead body parts, but that doesn't mean he's a bad guy, you know?
We Found a Monster is a very colorful book, especially during the more normal, everyday scenes. When the monsters pop up, things get a little darker or lean into a black-and-white palette but maintain the playful demeanor.
Letterer Steve Wands works overtime in this graphic novel, moving back and forth between prose and word balloons in a seamless fashion. Since everything is in Casey's journal, the font of the dialogue matches the font of the journal entries. The balloons look like part of the artwork and there are times the text has a lot of extra room, so I'm curious if Scroggs' put them on the page for Wands to fill in later.
There are times where you must wonder if this is all in Casey's head. That certainly adds to the enjoyment of the story. There's a darker version where he's crazy. In any case, We Found a Monster is a solid way to introduce your kids to the world of monsters. There's not enough all-ages horror out there, so this is a welcome addition.
Grades:

Story:




Art:
Overall: