"Young Hellboy: The Hidden Land #3"

Comic Review

Written by James Ferguson

Published by Dark Horse Comics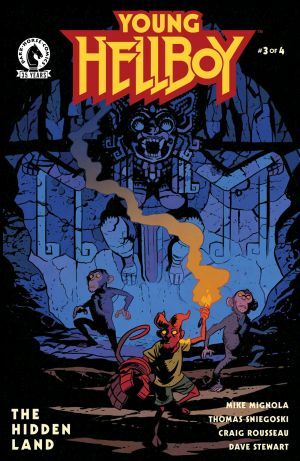 Written by Mike Mignola and Thomas Sniegoski
Illustrated by Craig Rousseau
Colored by Dave Stewart
Lettered by Clem Robins
2021, 32 Pages, $3.99
Comic released on April 14th, 2021
Review:
Hellboy and the Professor are stranded on a tropical island, but Gilligan is nowhere in sight. Instead, there's something dark and sinister lurking within this paradise and it's about to wake up. Fortunately, they aren't alone, as they're joined by the locals and Scarlett, a woman who can transform into a big ape-like creature. They'll need all the help they can get when this monster comes calling.
There are times in Young Hellboy: The Hidden Land where it almost feels like an all-ages comic. That comes from Craig Rousseau's artwork, particularly how he captures the wide-eyed excitement of our main character. To Hellboy, this is a fun adventure. The dangers aren't totally real. That childlike wonder is shattered when something horrifying happens. In this case, when the vampire queen, Vesperra, pops up.
This issue culminates in a heated battle between Vesperra and Scarlett. Sure, we've seen Godzilla vs. King Kong recently, but have you seen a big vampire bat monster face off against a big ape monster? OK, maybe you have, but never like this. It's a knock-down, drag-out fight with the fate of not only the island, but potentially the world hanging in the balance. Rousseau chooses some great shots to highlight the intensity of this encounter, leading up to a jaw-dropping cliffhanger.
Dave Stewart's colors are bright for Young Hellboy: The Hidden Land #3, even when the characters head into a dark and secluded temple. This is something else that contributes to that all-ages tone, as we're used to shadows looming large in the Mignolaverse. This cuts down on the moody atmosphere, but maintains the tense nature of the overall experience.
It's easy to get caught up in Hellboy's enthusiasm about this whole thing. Sure, there are parts that can scare anyone, including him, but he's along for the ride. Letterer Clem Robins captures this well in the boy's dialogue. While you may be worried about what awaits him, you are with him completely. Let's see where this goes, buddy!
Writers Mike Mignola and Thomas Sniegoski mix that sense of wonder that can only happen when you're a kid with monsters and other terrors. The scares are real, although they lean more on the fun and adventurous than the chilling. It's a fun balance.
Grades:

Story:






Art:
Overall:
This page includes affiliate links where Horror DNA may receive a small commission at no extra cost to you.