Page 4 of 7
A Nightmare on Elm Street 4: The Dream Master (1988) is a solid, enjoyable effort from director Renny Harlin (Cliffhanger). The surviving characters frompart 3 return and the cast is intact minus Patricia Arquette's Kristen, now played by Tuesday Knight. The torch is passed to Alice, a mousy girl known as the Dream Master with the power to absorb the powers of her fallen friends, although most of these people are not Dream Warriors, just high school kids. It was here that Freddy first courted the rap community, as he performs with The Fat Boys over the closing credits. The eclectic soundtrack also features Sinead O'Connor and Dramarama. Robert Englund worked with Harlin again as a villain in the Andrew Dice Clay feature The Adventures of Ford Fairlane.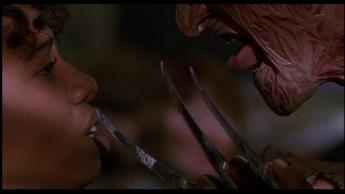 Memorable Freddy Quotes:
As Freddy prepares to kill Kristen, she calls her friend Alice into the dream. Freddy sees her and says "How sweet. Fresh meat."
Freddy meets Alice in the cathedral for their final battle "Welcome to Wonderland, Alice."
Best Kill:
A health nut with a fear of bugs is turned into a cockroach and squished inside a roach motel.