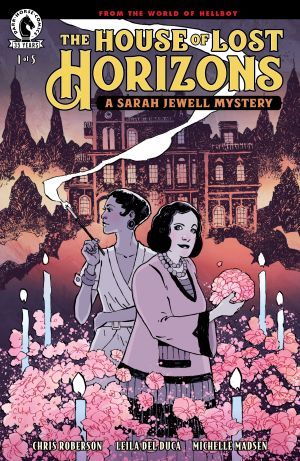 Chris Roberson Talks The House of Lost Horizons
Interview conducted by James Ferguson
This week sees the debut of The House of Lost Horizons: A Sarah Jewell Mystery, a new mini-series set in the Hellboy Universe from Dark Horse Comics. Written by Mike Mignola and Chris Roberson, illustrated by Leila del Duca, colored by Michelle Madsen, and lettered by Clem Robins, the series introduces us to a new kind of paranormal detective and an intriguing murder mystery. I had a chance to speak to Roberson about the project.
A locked-room murder mystery puzzles paranormal detective Sarah Jewell and her associate Marie Therése when a weekend trip on a private island off the coast of Washington goes astray. Trapped by a storm and surrounded by myriad suspects who have gathered for an auction of occult items, the intrepid duo must unravel the supernatural mysteries surrounding the guests in hopes of uncovering the murderer! But all the while, bodies keep piling up, and at any moment Sarah or Marie Therése could be next!
James Ferguson: Sarah Jewell is not your typical supernatural detective. How would you describe her and her companion Marie-Thérèse LaFleur?

Chris Roberson: Sarah Jewell is more in the tradition of amateur sleuths like Agatha Christie's Miss Marple than the majority of hard bitten supernatural detectives, though Marie-Thérèse can hold her own in a fight. The two of them travel the world in search of adventure, and invariably find themselves mixed up in supernatural menace of one kind of another.

JF: How does it feel working with Mike Mignola and the Hellboy Universe again?

CR: The world that Mike and his various collaborators over the years have created is one of my all time favorite fictional universes, and one of the things I like most about it is that it is big enough and flexible enough to make room for almost any kind of story that we want to tell.

JF: How does this fit within the overall Hellboy Universe? Will Sarah bump into the B.P.R.D. along the line?

CR: The House of Lost Horizons takes place in the 1920s, so it's a little too soon for her to bump into Trevor Bruttenholm and company, although we've already seen Sarah as a younger woman assisting in the investigations of Sir Edward Grey in the pages of Witchfinder, so anything is possible!

JF: Did you pull inspiration from any other murder mystery or supernatural stories when writer The House of Lost Horizons?

CR: I was definitely looking to classic whodunit mysteries like Death on the Nile or Murder on the Orient Express for inspiration, stories with a big cast of interesting characters in a confined space, any or all of whom might have a motive themselves.

JF: How did artist Leila del Duca join the team for The House of Lost Horizons?

CR: Back when Mike and I were first talking about the story that eventually became The House of Lost Horizons with our editor Katii O'Brien, we had each come up with our own short lists of who we thought would be a good fit to draw the series, and Leila's name was at the very top of all three of our lists. We were at a convention were Leila was tabling at the time, so we just walked over and asked if she was available and interested, and we were off to the races!

JF: Judging from the first issue, Sarah is experienced in paranormal mysteries. Can we expect more of her adventures in the future?

CR: Although The House of Lost Horizons is designed as a standalone adventure, this is not the last of Sarah and Marie-Thérèse's exploits, and if enough readers enjoy this first outing I'd love nothing more than to come back and explore more of their adventures over the years!

The House of Lost Horizons #1 is set for release on May 12th, 2021 at your local comic shop and digitally through ComiXology and Amazon Kindle.