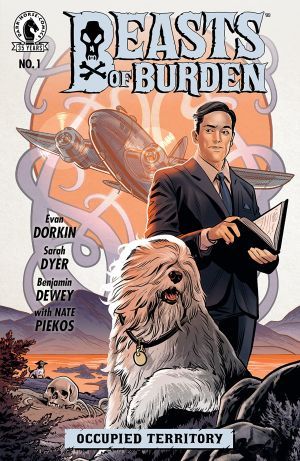 Dogs & Cats Vs. Evil – Evan Dorkin Talks Beasts of Burden: Occupied Territory
Interview conducted by James Ferguson
Beasts of Burden has been a stand out series for years and it continues to grow and evolve, following the adventures of talking animals dealing with supernatural threats. The latest chapter in the Beasts of Burden story, Occupied Territory, debuted this week from Dark Horse Comics, written by Evan Dorkin and Sarah Dyer, illustrated by Benjamin Dewey, and lettered by Nate Piekos. I had a chance to speak with Dorkin about the project, creepy disembodied heads, and more.
An elder member of the occult-battling pack of Wise Dogs recalls a harrowing mission—in U.S-occupied Japan after World War II, a mysterious curse creates an army of crawling, disembodied heads which threatens to overwhelm the region. Emrys and a team of canine companions attempt to solve the mystery, bringing them into conflict with shape-changing tanuki, evil oni, and a horde of vengeful demons.
James Ferguson: How would you describe Beasts of Burden to a newcomer to the series?
Evan Dorkin: Dogs and cats fighting ghosts and monsters. Protecting their small town of Burden Hill from the supernatural. There are Wise Dogs and witch cat familiars with occult abilities, but the main cast are basically plain, ordinary pets and strays caught up in a bad situation. The series has violence and some gore, and some bad things happen to the characters. But, basically, it's dogs and cats versus evil.
JF: Occupied Territory takes us out of Burden Hill and out to Japan in a tale from Emrys. What drew you to this setting for the story?
ED: We were just looking for a way to put a shiba in the comic, and things got out of hand. Our editor, Daniel Chabon, has a shiba named Zell and we'd talk about putting her in the comic. A few years ago, I came up with an idea for a one-shot with Emrys the Wise Dog that would take place in post-war Japan, which would feature a group of shibas as temple guardians. Later on, Sarah and I revised and expanded the basic idea into a four-issue series, which allowed us to add more characters and situations and yokai folklore. Sometimes a story comes together in an inorganic way, and a small thing like "let's see a shiba in there" snowballs into a series.
JF: I feel OK mentioning this as it's in the description for the first issue. Why an "army of crawling, disembodied heads" as the curse Emrys encounters in Occupied Territory? That is both very specific and super creepy.
ED: Crawling, disembodied heads improve just about anything. It's just a fact.
JF: As an artist yourself, how do you approach script writing? Do you use thumbnails or any other visuals?
ED: We turn in full, tight scripts to the artist – there might be some dummy placement dialog in there and a few missing sound effects, but it's all there story-wise. I'll do thumbnails to help me work out a page I'm having trouble with, but I don't send those to Benjamin or any artist we work with unless I'm asked to. I've done layouts on a few jobs, but in those cases I was hired to do them along with the script. I'll sketch out a simple map and include that with the script if I think that's necessary for a sequence. If there's a specific object or an oddball item in the script that needs to be drawn I'll attach a jpeg image with the script or include a web page link in the text. Otherwise, a tightly-written script directs an artist enough, I don't want to constrain anyone further by telling them how to approach the actual page. If an artist wants to chop a panel up or combine panels, or extend a sequence, as long as it tells the story and doesn't step on any plot points, that's okay with me. Everyone should have fun making these things.
JF: How might the dogs and cats in Beasts of Burden deal with other notable animals of horror such as Cujo or the crocodile from Lake Placid?
ED: The animals with magical abilities would handle things differently than the Burden Hill dogs and cats. Emrys could just set Cujo on fire. Lundy would blow his head off with a psychokinetic spell. Actually, Emrys would probably try to see if Cujo could be cured before putting him down. The Burden Hill animals would panic and run away and try to figure out some kind of trap. Whatever would make a good story is what they'd do, really. I haven't seen Lake Placid but I'm assuming the crocodile's just a Jaws-like bastard that needs its head blown off.
JF: What horror movies, books, or TV shows have you enjoyed lately?
ED: I just re-read all the Silver John books by Manley Wade Wellman and have been reading essays on the Weird Tales, pulp and Lovecraft writing circles. Partly for research, partly for fun. On the top of my to-read pile is The Valancourt Book of World Horror Stories and The Only Good Indians by Stephen Graham Jones. The last few horror movies I enjoyed were Jack Be Nimble (a really bizarre Australian downer from 1983), Dark Waters (the Russian/UK/Crimean/Italian production from 1993), and the first two Phantasm movies. I rewatched all five Phantasm films for an episode of the horror movie podcast I do with my friend Paul, Tear Them Apart, but the last three are a mess. I don't really watch any television shows, horror or otherwise. It's not a stance or anything, I just haven't had any interest in anything. It's weird, because I grew up addicted to television. I figure I'll catch up on stuff when I'm old and bored and waiting to die.
Horror DNA would like to thank Evan Dorkin for speaking with us. Beasts of Burden: Occupied Territory #1 is currently available at your local comic shop and digitally through ComiXology and Amazon Kindle.