EXCLUSIVE: DC Comics Announces Gotham City Monsters
Event Leviathan is wreaking all kinds of havoc in the pages of Superman. Its effects will be felt far and wide. To that end, DC Comics has announced Gotham City Monsters, a new series from writer Steve Orlando and artist Amancay Nahuelpan following Frankenstein as he gets a monstrous team together. I got a chance to speak with Steve and Amancay about the project.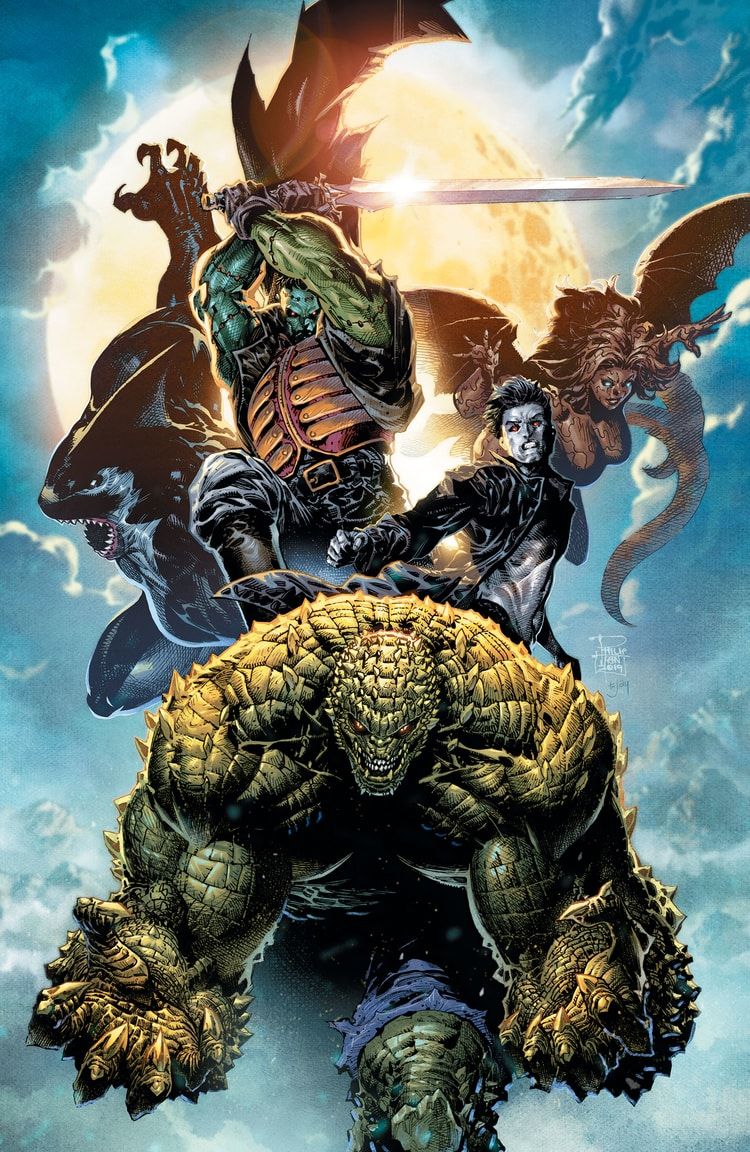 Click image to enlarge
Leviathan has dismantled S.H.A.D.E.—and that means Frankenstein is once again a free agent! Now he can set his sights on his former mentor, Melmoth, the one evil that got away. With bad things happening all across the Multiverse, this may be Frankenstein's last shot at setting things right. Of course, Melmoth has his own agenda, and it's going to take more than a lone monster to take him down. So Frankenstein heads to Gotham City in search of allies and recruits Killer Croc, Lady Clayface, Orca and vampire Andrew Bennett. But will even these dread creatures be enough to save humanity before the entire cosmos collapses in on itself?
James Ferguson: What unites a group of monsters to try to save humanity?
Steve Orlando: The common bond of these unexpected heroes is loss—our villain has struck in Monster Town, thinking no one cares about creatures, no one cares about monsters, but these are beings with thoughts, feelings, families, and emotions. Our villain could not be more wrong, there is comradery in Monster Town he never imagined. So when a magical tragedy occurs at one of the oldest theaters in Gotham, Frankenstein uses the event to galvanize a team of outcasts against a common threat, one of his greatest enemies.
Frankenstein knows after centuries...to win, you fight monsters with monsters.
JF: How were these particular characters chosen for the team?
SO: The relationships and the tension they bring to the table. These are people who all want revenge after our first issue, but that doesn't mean they all want it the same way, or will all want to help each other get it. As well, they're all people who are looking to solidify their identities and affirm themselves in spite of what people outside Monster Town may think of them judged off their appearance. Saving Gotham City, Earth, and the Multiverse...that might be a good start.
JF: Do you anticipate any flack from people that insist he's called "Frankenstein's monster"? As someone that writes about this guy frequently, I cannot stand this minor detail.
SO: I am honestly not so worried about it? DC's version has lived for over a hundred years and by now has taken on his creator's name, as established in his previous appearances. I'm sure some people might not know that, but I'm actually excited for them as it means they still get to read the original, incredible Seven Soldiers miniseries that made me love Frankenstein in the first place.
JF: Amancay, do you have a favorite to draw?
Amancay Nanuelpan: With no doubt, Frankenstein is my favorite to draw from the group! There's so much texture and detail when drawing him. The stitches and veins in his arms, the coat, the boots, everything is just awesome to draw. His big bulky monstrous body. You really get to play around with the different types of shadows his face and body cast.
JF: Do you approach characters like these differently than you would the traditional capes crowd?
AN: Absolutely, what I love from this group of misfit monsters is that each one of them is completely different from the other. I get to play around with different types of body shapes, big, bulky, slim, different textures from what they are made of. You get Croc that's all reptile skinned, and the Orca that has that killer whale skin more shiny and gooey. Lady Clayface that's the complete opposite, or Frankenstein with all those stitches on his body. You really get a wide range of sizes and looks in this group. And that makes it a lot of fun to work with.
So yeah, the approach is slightly different, you're still drawing muscled figures liked the traditional cape crowd, but this time it's amped-up 5x.
SO: From a creative standpoint the job is always same—know the character, know their core, what makes them special, and then share that with the reader. It's not enough to say or tell people these characters are great, you must craft story and imagery that shows them, that leaves no doubt. So the approach never changes, but its expression always does. In Gotham City Monsters, we're digging into the strange and weird within Gotham, somewhere I haven't been since Batman/The Shadow, and I couldn't be more excited!
Gotham City Monsters #1 is set for release on September 11th, 2019. It will feature a main cover by Philip Tan and a variant cover by Frank Cho.