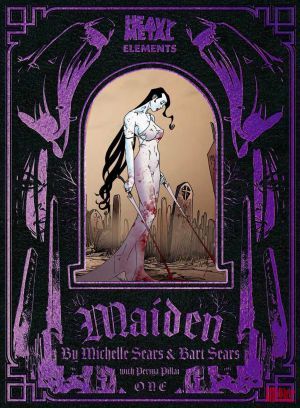 EXCLUSIVE PREVIEW: MAIDEN #1
This week sees the release of Maiden #1, the new fantasy-horror comic from the husband and wife team of Michelle and Bart Sears. The anthology series features five chapters per "possession" story taking us through history. Publisher Heavy Metal has shared an early preview of the debut issue which you can check out below. Chapter 3 recently debuted in Heavy Metal #304 and chapter 4 can be found in Heavy Metal #305 on April 7th, 2021.
A young woman has forfeited her soul to a supernatural force of vengeance, never to be redeemed, devoted to annihilation as completely as her servant, the inscrutable and frightening Hag, is devoted to her. Haunting tales of unrelenting, unrepentant revenge. An epic mythos that spans time, worlds and genre, the horrifyingly tragic curse of the Maiden is written in the blood of many. Maiden is the boogeyman of a new generation.
Maiden #1 will be available at your local comic shop or at the Heavy Metal website on March 31st, 2021.
Want to share some news? Click here to hit us with it!