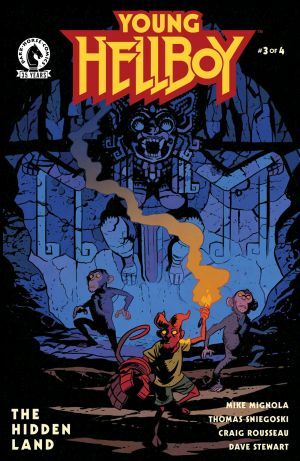 EXCLUSIVE PREVIEW: YOUNG HELLBOY: THE HIDDEN LAND #3
The beauty of the Mignolaverse is how vast and fully of history it is. You can point to any time period and find some interesting stories. A perfect example of this is the latest tale, Young Hellboy: The Hidden Land, chronicling the adventure of...well...Young Hellboy...in a hidden land. There's much more to it than that, I assure you. We're pleased to share an exclusive preview of issue #3, due out this week from Dark Horse Comics.
Hellboy, the Professor, Scarlett, and the Ohnar are all in danger when an ancient evil awakes. The vampire Vesperra and her undead legions are too powerful for Hellboy and his companions to face alone, but Scarlett has an ace up her sleeve that will give them a fighting chance.
Young Hellboy: The Hidden Land #3 is written by Mike Mignola and Thomas Sniegoski, illustrated by Craig Rousseau, colored by Dave Stewart, and lettered by Clem Robins. It features a standard cover by Matt Smith and a variant cover by Wylie Beckert. Find it at your local comic shop and digitally through ComiXology and Amazon Kindle on April 14th, 2021.
This page includes affiliate links where Horror DNA may receive a small commission at no extra cost to you.
Want to share some news? Click here to hit us with it!