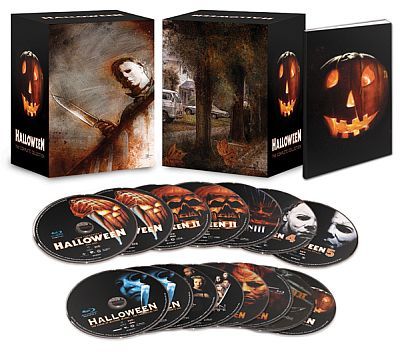 FANTASTIC FEATURES FOR HALLOWEEN
The long awaited Halloween: The Complete Collection Deluxe Edition Box Set is just around the corner and contains all ten films to date, some with multiple versions and all with special features. A bonus disc offers hours of additional supplements that fans will not want to miss.

Starting things off is the Extended Version of the original Halloween (101 minutes), featuring 12 minutes of additional footage created for the television broadcast. This marks the first time the version has appeared in HD, yet a special notation informs viewers the TV inserts are in standard definition. This is an odd caveat considering that this material is presented in HD on the 35th Anniversary Blu-ray edition included in this collection!

Longtime collectors will be able to ditch those earlier home video versions of the films, as everything previously created has been ported over here, starting with a trio of vintage Anchor Bay DVD featurettes including: Halloween Unmasked 2000 (27 minutes), The Making of Halloween 4: Final Cut (17 minutes) and Inside Halloween 5 (15 minutes).

The gang at Scream Factory knocked out special editions for Halloween II and Halloween III and have now returned to provide proper retrospective pieces on Parts 4 and 5 with two all-new documentaries: Back to Basics: The Making of Halloween 4 (48 minutes) and Dead Man's Party: The Making of Halloween 5 (44 minutes). Both follow the template of assembling as many members of the cast and crew for sit-down interviews to share their memories of making these films. There are countless anecdotes that will make audiences rush back to watch these films again, and it is nice to see familiar faces clearly enjoying discussing the good times of making movies. In the case of Halloween 5, there is a priceless video record of the cast and crew partying after hours. One structural oddity this time around, however, is that both documentaries are presented in two parts (there is a brief intermission around the half hour mark for each) that play as a single piece.

Up next is an undated (early 1980s?) interview with Executive Producer Moustapha Akkad that runs just over one minute, in which he speaks about the popularity of the series and how it started.

Make-up artist Tom Burman reflects on how he got into the business and then discusses his work on Halloween III in Make-Up from Scratch (6 minutes). Dig that nifty piece of art beside him.
Click image to enlarge.

Longtime fans of Sean Clark's Horror's Hallowed Grounds will be happy to learn about the filming locations of the franchise in a quintet of episodes filled with fun facts, goofy humor and interesting trivia, The episodes include:
Halloween (20 minutes) is the original 2005 episode that includes all contents trimmed from the earlier release. This segment is a nice companion piece to the On Location: 25 Years Later segment featuring PJ Soles and the late Debra Hill walking the streets of Haddonfield.

Halloween 4 (26 minutes) is an extensive tour of the locations around Salt Lake City as our host speaks with property owners and local residents about the film.

Halloween 5 (24 minutes) continues the tour of Salt Lake City shooting locations, this time assisted by actor Don Shanks, who played Michael Myers in the film. Shanks is a lot of fun and shares tons of information and at one point recreates a deleted sequence using Clark as a victim.

Halloween 6 (23 minutes) concludes the Utah based location tours, this time joined by effects artist Brad Hardin.

Closing out Horror's Hallowed Grounds is the episode titled Bus Tour (11 minutes), which was shot during Clark's guided tour for attendees of the 35 Years of Terror convention. The locations include the original trilogy with nods to the Rob Zombie films and an occasional crossover spot like the house from Jim Carrey's Liar, Liar. Clark proves both knowledgeable and friendly as he leads a group of roughly two dozen fans through the streets of horror history.

A collection of television spots for Halloween 4 and Halloween 5 are joined by similar ads for the two Rob Zombie films. These are followed by a set of radio ads for Halloween III.

Rounding things out are a trio of promotional stills galleries for the original Halloween (97 images), Halloween 4 (46 images) and Halloween 5 (46 images). There are publicity shots, behind-the-scenes photos and marketing materials, all worth checking out.

As you can see, Anchor Bay and Scream Factory have pulled out all the stops for the features alone. I already have my set pre-ordered and I can't wait to dive into the movies!
Want to share some news? Click here to hit us with it!