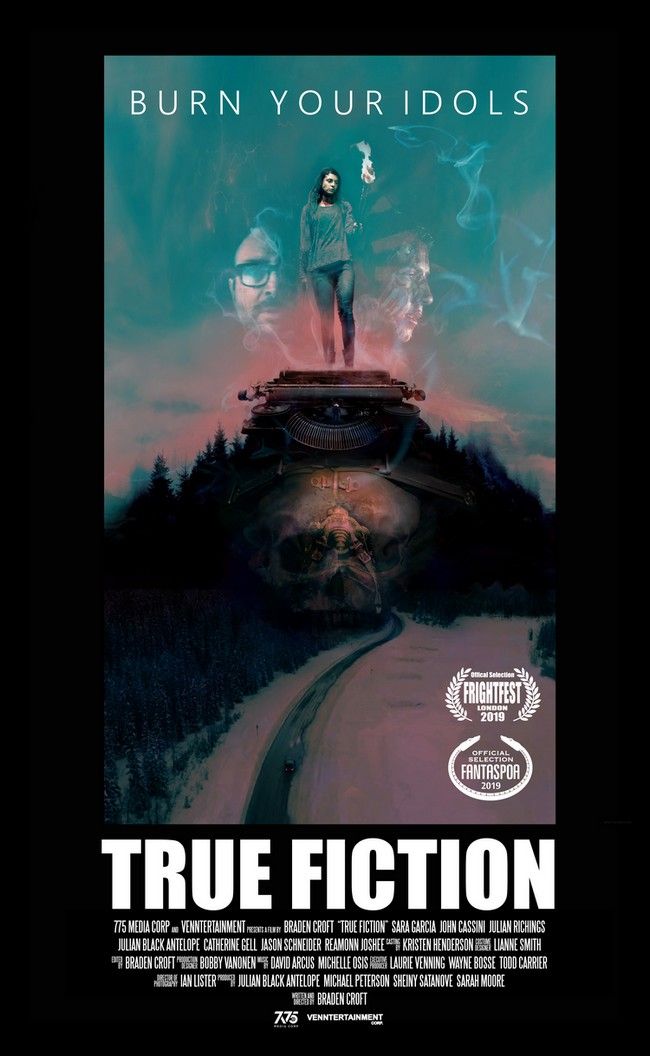 Click image to enlarge.
True Fiction Premiere at Arrow Films Frightfest 2019
If there's one thing you can be certain of at Frightfest it's that Canada will make a strong showing with a selection of films. We all know about the Soska Sisters' Rabid that will play the festival, but go a little further afield and you'll find many more Canadians representing the Maple Leaf.
Braden Croft is a Canadian film director and screenwriter whose debut horror film Hemorrhage (2012), premiered at the Fantasia International Film Festival. Speaking of the inspiration for the film, Croft says:
My initial intent with True Fiction was to craft a single location, female lead driven "two-hander" psychological thriller. As I immersed myself deeper in the narrative, I found fertile ground to explore personal themes of sacrifice, remorse and absolution; universal elements that I had attachments to in my personal life. One of the most compelling discoveries was the social message that organically sprouted from the core of the story: consent and the abuse of power... socially it reflected the events unfolding around my industry and the world as a whole; the #MEtoo movement.

Ideally, I would see True Fiction finding an audience with discerning genre fans that appreciate hard-boiled horror / thrillers that lean away from contemporary genre conventions. My hope is that True Fiction will both entertain and engage the audience's thirst for intense, thought provoking genre films.
Drawing on influences such as The Game, Misery and The Haunting, True Fiction is cast, crewed and funded by Canadian talent that aims to get the maximum effect from its single-location and minimal cast.
Synopsis

Avery Malone, a social ghost and struggling writer, lands the opportunity of a lifetime in assisting the world-famous, reclusive horror writer, Caleb Conrad, in writing his latest novel.

Desperate to reclaim his former glory, Caleb proposes a psychological experiment to study true fear with Avery as his guinea pig. Diving into Avery's torn psyche, strange happenings begin to occur in Caleb's remote cabin estate. As the lines between fact and fiction blur, Avery suspects her boss may not be who he says he is but a killer inspired by Caleb's novels.

Pushed past her breaking point, Avery seemingly confirms her suspicions and turns the tables on her captor. Constantly torn between what is real or part of the experiment, Avery will do whatever it takes to fulfill her duties and finish Caleb's most gruesome novel yet.
True Fiction Links: Facebook | Twitter
True Fiction receives its premiere on Saturday 24th August in the Cineworld Discovery Screen. For tickets go to: http://www.frightfest.co.uk/tickets.html
Click images to enlarge.
Arrow Films FrightFest, the UK's biggest genre film festival, runs from Thursday 22nd August to Monday 26th August at the Empire Cinema, Leicester Square and the Prince Charles Cinema. The full line up was announced on Thursday July 4th. Festival and day passes go on sale from Saturday July 6th. Tickets for individual films are on sale from Saturday July 20th.
Frightfest Links: website | Facebook | Twitter | Instagram
Arrow Video Links: website | Facebook | Twitter | Instagram
Want to share some news? Click here to hit us with it!