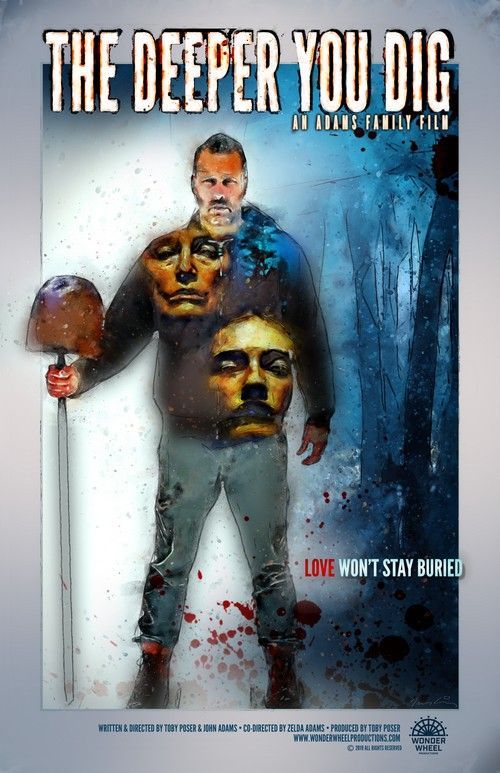 Click image to enlarge.
The Deeper You Dig European Premiere at Arrow Films Frightfest 2019
Keep it in the family; that's exactly what filmmakers Toby Poser and John Adams, along with daughters Lulu and Zelda, do when it comes to making movies. Their production company, Wonder Wheel Productions, has already churned out four movies starting in 2012 (all earning a hearty reception on the indie festival circuit, including Best in Show and Audience awards) and with the European Premiere of The Deeper You Dig at Arrow Films Frightfest 2019, that makes five.
Using their home in the Catskill Mountains of New York as their location, these industrious creatives take every opportunity to utilise their environment. John Adams has been restoring an old farmhouse and the carpentry he does in the film is real-time work. If a wall had to be demolished, they'd shoot it put it in the film.
Synopsis

Ivy and Echo are not your typical mother-daughter team. Ivy, once an intuitive psychic, makes an easy buck as a bogus tarot card reader; 14 year-old Echo likes old-timey music, hunting, and black lipstick.

When reclusive Kurt moves down the road to restore an abandoned farmhouse, an accident leads to Echo's murder, and suddenly three lives collide in mysterious and wicked ways. Kurt assumes he can hide his secret under the ground. But Echo burrows into his head until he can feel her in his bones. As she haunts his every move, trying to reach her mother from beyond, Ivy must dig deep to see the signs and prove that love won't stay buried.
The family has even become a little of a local phenomenon, with the community welcoming them to use their homes, land or stores as shooting locations. Living in a small town and standing out by being the only people shooting in a blizzard or going for coffee while covered in fake blood has its benefits. While the family has ventured much further afield in pursuit of the perfect shot, they always end up close to home for the bulk of filming.
Speaking about the film, the directors said:
The Deeper You Dig is a story about grief and survival, cloaked in shades of horror and bent through a mirage of the supernatural. We wanted to make a film that fell into the realm of horror, but that was also a drama about true, impenetrable love - and the lengths to which a mother and daughter might go to stay whole.

It was shot almost entirely in the Catskill Mountains of New York, where we live. It was also shot in tandem with John's actual work restoring an old farmhouse. We like to think of that house as a character in the film, evolving as the story does... a parallel symbol of Echo's (and Kurt's) own transformation. Creepy, cold, and dark in its skeletal early form, the house changes over the seasons, finding its own pulse. New walls cover old wooden bones like skin; windows welcome light; foundations are sealed. Ivy, too, is rebuilding the bedrock of her former mystical prowess while cementing a new, if unconventional, deal for the future.
The Deeper You Dig receives its premiere on Friday 23rd August in the Cineworld Discovery Screen. For tickets go to: http://www.frightfest.co.uk/tickets.html
The Deeper You Dig Links: Wonder Wheel Productions Website | Instagram | Twitter
Click images to enlarge.
Arrow Films FrightFest, the UK's biggest genre film festival, runs from Thursday 22nd August to Monday 26th August at the Empire Cinema, Leicester Square and the Prince Charles Cinema. The full line up was announced on Thursday July 4th. Festival and day passes go on sale from Saturday July 6th. Tickets for individual films are on sale from Saturday July 20th.
Frightfest Links: website | Facebook | Twitter | Instagram
Arrow Video Links: website | Facebook | Twitter | Instagram
Want to share some news? Click here to hit us with it!