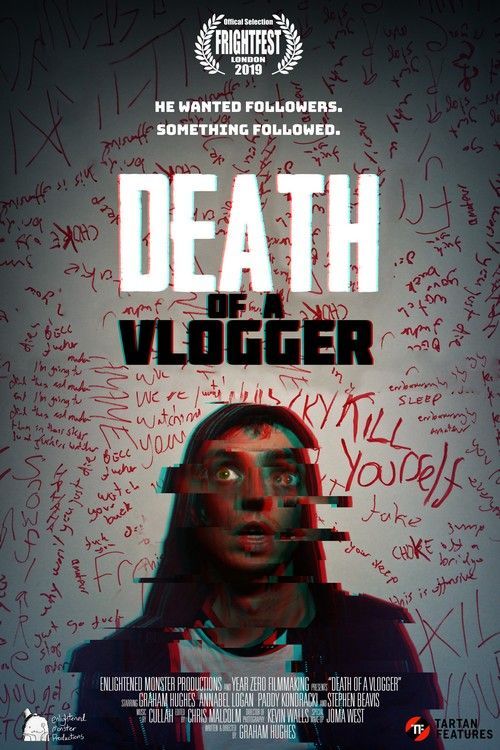 Click image to enlarge.
First Blood - Death of a Vlogger World Premiere at Arrow Films Frightfest 2019
Graham Hughes' Death of a Vlogger is screening as part of the Arrow Films Frightfest 'First Blood' strand, a sub-section of the festival that looks to bring new and emerging talent to a willing horror audience. Frightfest's faith in Hughes is well-placed; he's a two-time nominee and one time winner of the BAFTA New Talent award who has three feature films (including the Edinburgh Film Festival's Best British Feature A Practical Guide to a Spectacular Suicide), a six-part web series and a large handful of short films and music videos under his belt.
Synopsis

Combining found footage, archive materials, talking head interviews, and ripped youtube videos, Death of a Vlogger is a mockumentary horror that explores the dark side of the internet.

When ambitious vlogger, Graham, accidentally records an alleged ghost in his latest video, it sends him on a journey to explore the haunting, and document his findings online.
This is a film that stems from personal experience. Hughes has created online content for Time, Vanity Fair, The Huffington Post and many others, achieving over 25 million views on his work. If anyone knows how online success and the elusive 'viral hit' bring out the darker side if the internet, he does. Speaking about the film he says:
This film is a deeply personal one for me. As a filmmaker, I've been making videos for publication online for over 10 years now. Along the way, I have had the fortune to go viral a few times. Let me tell you that it is not always a positive experience. Not only does such exposure and the anonymity of the internet bring out the worst in people, it can also have a negative effect on the psyche.

Every time I make a new video for online, I tell myself I'll check back on it in a few hours to see how the view count is going, how many likes, comments etc. And yet I barely last a few minutes before I'm refreshing the page, like a junkie needing another hit. Each time the red notification number has lit up, I get a little rush of adrenaline.

As well as that, the amount of lies, misinformation and 'fake news' constantly distributed online is one of the greatest dangers to modern society. What happens when you can't even believe your eyes anymore? The potential to exploit new technologies is frightening.

I want to explore ideas of how we cultivate our personas for consumption on the internet, are fuelled by a desire to achieve more likes, views and validation. And on top of that I want to explore the weird culture of public shaming that has reared its ugly head recently, and the often unseen consequences it can take on a person's life.

These are some of the ideas I explore with Death of a Vlogger. I want to dig into the dark side of going viral.

Ultimately though, Death of a Vlogger is a terrifying, surprising and often darkly-funny paranormal horror film.
Death of a Vlogger receives its World premiere as part of Frightfest's First Blood strand on Saturday 24th August in Prince Charles Discovery Screen 1. For tickets go to: http://www.frightfest.co.uk/tickets.html
Death of a Vlogger Links: Graham Hughes Twitter | Twitter
Click images to enlarge.
Arrow Films FrightFest, the UK's biggest genre film festival, runs from Thursday 22nd August to Monday 26th August at the Empire Cinema, Leicester Square and the Prince Charles Cinema. The full line up was announced on Thursday July 4th. Festival and day passes go on sale from Saturday July 6th. Tickets for individual films are on sale from Saturday July 20th.
Frightfest Links: website | Facebook | Twitter | Instagram
Arrow Video Links: website | Facebook | Twitter | Instagram
Want to share some news? Click here to hit us with it!