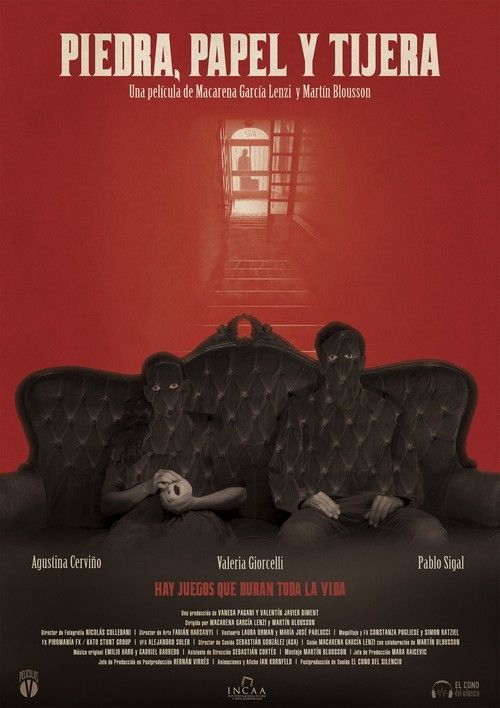 Click image to enlarge.
Rock, Paper and Scissors World Premiere at Arrow Films Frightfest 2019
Back in 2015, producer Javier Diment brought darkly comic tale The Rotten Link to Frightfest where it went down a storm with its audeince. Now he's back, with directors Macarena García Lenzi and Martín Blousson (who also co-wrote The Rotten Link) and their film Rock, Paper and Scissors. García Lenzi is a dramatist and theatre director with a string of plays under her belt. Blousson is an editor and screenwriter responsible for The Memory of the Dead, Daniel de la Vega's Blood Brothers and the the aforementioned, prize-winning The Rotten Link
It looks like dark humour is the order of the day once again, as the protagonists of the film compete against each other in twisted contests to decide who will benefit from a family inheritance.
Synopsis

Jesus and Maria José live together in the house that belonged to their recently deceased father. Their routine is disrupted when Magdalena, their half sister on their dad's side, returns from Spain asking for her share of the inheritance. They don't want to sell the house and in order to keep it they will deliver a series of sick games where it won't be easy to define who has the rock, the paper or the scissors.
Rock, Paper and Scissors Links: Facebook | Instagram
Rock, Paper and Scissors receives its world premiere on Thursday 22nd August at the Cineworld Discovery Screen. For tickets go to: http://www.frightfest.co.uk/tickets.html
Click images to enlarge.
Arrow Films FrightFest, the UK's biggest genre film festival, runs from Thursday 22nd August to Monday 26th August at the Empire Cinema, Leicester Square and the Prince Charles Cinema. The full line up was announced on Thursday July 4th. Festival and day passes go on sale from Saturday July 6th. Tickets for individual films are on sale from Saturday July 20th.
Frightfest Links: website | Facebook | Twitter | Instagram
Arrow Video Links: website | Facebook | Twitter | Instagram
Want to share some news? Click here to hit us with it!