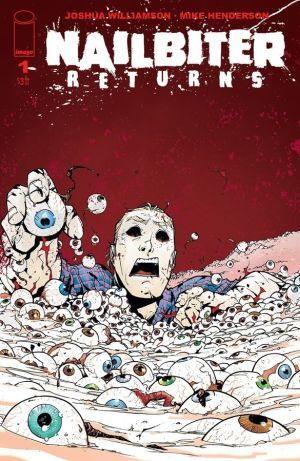 Going for the Eyes - Joshua Williamson & Mike Henderson Talk Nailbiter Returns
Interview conducted by James Ferguson
Nailbiter, one of my all-time favorite horror comics is coming back with a follow up series in June from Image Comics. Nailbiter Returns reunites the creative team of writer Joshua Williamson and artist Mike Henderson, along with colorist Adam Guzowski, and letterer John J. Hill for a trip back to Buckaroo, Oregon, the home of some of the world's worst serial killers...and it looks like a new one has popped up to wreak havoc. I had a chance to speak to Williamson and Henderson about the project.
Sixteen of the world's worst serial killers were all born in the same small town...but Agent Finch and Sheriff Crane solved and buried that mystery. Didn't they? Violent copycat murders imitating the infamous Buckaroo Butchers have begun in Portland, Oregon, and if Finch wants the killings to stop, he'll have to team up with the daughter of the Nailbiter himself.
James Ferguson: After already providing some super unsettling imagery involving tearing fingernails with the original series, this one jumps into eyeballs as seen in the previews for the first issue. Is the goal to make someone throw up? Because I feel like this is how you make someone throw up.
Mike Henderson: If I make even one person throw up, then I've done my job well. If I make Josh throw up, I've done it reeeeally well.
Joshua Williamson: Way back when we started to get the series ready for Image, I would hear from other creators they felt our first #1 cover was too gross. That it was too much. They'd put it down. But I remember really well the sound the audience made when we revealed that cover at Image Expo in 2014. It became a goal of ours to make people say "WHAT THE FUCK?" and laugh. And yeah, in places be a little grossed out. So this time around we went for the EYES. I know people have a fear of anything with eyes and for them even the idea that people wear contacts freak them out.
JF: This book has some terrific pacing that really helps raise the tension by holding on a certain shot for a few panels with subtle changes. How do you decide which moments need that extra time and attention?
MH: Comics sometimes lack the extensive toolboxes you see in other visual mediums. We have no musical cues or record scratches to convey comedy the way a movie or podcast might so something like a static panel can trick the brain into filling in those gaps. It's a pretty misunderstood and over used technique but when it's used right it's damn effective. Even when they're not specifically called for, those moments leap out of scripts at me.
JW: Like Mike said. We've worked with each other for so long now we know what to expect from each other. And that is built into the DNA of the series. Those kinds of moments. So we're always on the look out for times to play with the pacing. To really let the horror breathe.
JF: How did you go about updating the designs for some of the returning characters?
MH: Given that Nailbiter Returns picks up almost exactly where we left off most of our big, happy family's designs stayed the same. As always though, there are some flashbacks in our story though so be prepared for some late 90's Warren.
JW: I leave that all to Mike. The designs he did for the series back when we first started in 2013, we built the characters around. Their personalities came after I saw those designs, so this time Mike took what was built into the past arc and where he thought they would be and moved forward.
JF: Aside from the Nailbiter himself, do you have a favorite Buckaroo Butcher? Or is that like choosing between your murderous children?
MH: The Butcher and the Bookburner are the most fun to draw but as a reader I'm team Blonde all the way.
JW: Blonde is great. Butcher, Terrible Two, Clown Car Killer, and then Lucha Eliminador. I think you can tell which are our favorites because they are the ones we revisit, OR the characters within the book will say is their favorites.
JF: Is Nailbiter: Returns planned as a mini-series or an ongoing? Or is that based on where this new mystery takes you?
JW: That depends on a lot of factors. Again, how [long] it takes us to tell the stories we want to tell. How the mystery builds. Just like last time we'd want to finish off a chapter our way and then take a break again. But we're here for a bit.
Horror DNA would like to thank Joshua Williamson and Mike Henderson for taking the time to speak with us. Nailbiter Returns #1 from Image Comics is set for release on June 3rd, 2020.
This page includes affiliate links where Horror DNA may receive a small commission at no extra cost to you.