GrimmFest Day One
Written by Daniel Benson

It's grim up north, so the saying goes. It's a lie, of course; head to any northern city and you're more likely to see prosperity and regeneration rather than the heavy industry responsible for the fabled grimness. Perhaps in tune with this, Grimm Up North, as it used to be known, changed its name to Grimmfest some years ago. Now in its 10th year, the Manchester-based festival has gone from strength to strength, this year taking place at the Odeon Great Northern.
The night kicked off with a treat for the long-time horror fan: a big-screen presentation of Re-Animator in honour of festival guest Barbara Crampton who, in her typically prolific fashion, has two new films at the festival. A brief introduction from the lady herself revealed a show of hands that quite a number of audience members hadn't seen the film before. For someone who first saw the film on VHS (cut to the UK's stringent censorship standards at the time), I can't imagine how much fun this must have been to see in its glory in a cinema environment.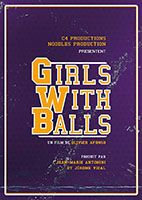 Johnny Kevorkian's ambitious low-budget sci-fi horror Await Further Instructions led us into the mid-evening. Set entirely in one British household at Christmas, its steadily rising tension sees a family trapped in the confines of their home while an unknown antagonist issues commands via simple text messages on their TV screen. The ending comes straight out of a melting pot of Cronenberg and Tetsuo: The Iron man, all the more impressive as the effects are entirely practical.

Read Stuart Monroe's full review here.
As the night began to run out so did my ability to stay awake, so it was going to take something pretty special to fight through the tiredness. Thankfully, Olivier Alfonso's Girls with Balls was just the tonic required. Billed as a feminist twist on the 'cheerleaders in peril' scenario, it follows The Falcons, an all-girl volleyball team that gets on the wrong side of a family of cannibalistic mountain men. Sound familiar? Think again. This riotous horror comedy sees the girls turn the tables on the clan, resulting in some gloriously gory and inventive kills. It even has a singing cowboy narrator to keep the story moving along. What's not to like?