HIDEO NAKATA INTERVIEW
Hideo Nakata is best known as the man who, almost single-handedly, put Japanese horror on the map for western audiences. The worldwide success of Ringu set the genre alight and revitalised the horror movie industry in his home country. Nakata took some time out to talk to Daniel Benson about his thoughts on movie-making and his movie, Chatroom.
WARNING: SOME OF THE DISCUSSION BELOW CONTAINS IMPORTANT PLOT POINTS AND SPOILERS FOR THE MOVIE CHATROOM. IF YOU HAVE NOT YET SEEN THE FILM YOU MAY WANT TO REVISIT THIS INTERVIEW AT A LATER DATE.
Daniel Benson: Since the worldwide success of Ringu the western world has gone crazy for Japanese horror, the fans want to see them and Hollywood wants to remake them. How do you feel about all the Americanised remakes?

Hideo Nakata: Well, I was in that crazed boom in Hollywood myself… So it is very difficult to analyse From an objective point of view. My cameraman for The Ring Two Gabriel Beristain told me, "There is a big film industry in Hollywood but there is no film culture, whereas there are various film cultures in other countries, but there are no film industries there". This is an ironic opinion as a DOP who trained himself in the UK, but I would agree with him. Hollywood studios are subsidiary companies under huge corporations, they have to follow the rule of capitalism. The main goal is to make money, caring for the quality of films became secondary.

I shot The Ring Two in Universal studios where Hitchcock made so many masterpieces. I was going to remake The Eye at Paramount where Coppola
made Godfather films. The decent film culture to respect filmmakers' creativity is now gone. It is a pity, however, there is no doubt that Hollywood is still producing the most popular movies released all over the world.

The remake thing did not happen just for Asian horror remakes, Hitchcock remade his own British thrillers. Kurosawa's Seven Samurai and Yojimbo were well remade (or cleverly adapted). In that sense I am honoured that three of my films, Jyoyu-rei [Don't Look Up (2006)], Ringu, and Dark Water were remade. At the same time I did have mixed feelings like, "Why can't my Japanese original films be released in the US first?"

I loved the Swedish film, Let the Right One In and questioned why they had to remake it in the US. The original film has such a monochromatic beauty visually, long unspoken beats between the bullied boy and the vampire girl express their sadness and fondness to each other very eloquently. Yes, as a vampire film, there are some cruel and rather grotesque scenes, but it is not the main theme that the director wanted to convey to his audience. I may be wrong, but these scenes will be maximised with advanced CGI to keep the audience on the edge of their seats in the Hollywood version. I have to say that it was exactly what happened in The Eye after I exited the project.
DB: After Ringu became a hit in the west, it seemed like every Japanese horror movie was based around a white-faced girl (or child) ghost. Was this just a case of trying to mimic your success or is the girl ghost an integral part of Japanese ghost stories?

HN: Well, in my opinion, the origin of those white faced ghosts should be credited to [Takashi] Shimizu's Ju-on series. Yes, traditionally Japanese ghosts in horror films, and Kabuki theatres especially, were made up white. But Shimizu took it to another stage, I thought it was very challenging because those expressions could be interpreted as comedy such as Chaplin's. It is just a thin line between horrific and cheesy and laughable.

DB: Your latest movie to be released on Amazon Prime in the UK, Chatroom, is based on a play by Enda Walsh. How did you first discover the story and what made you want to make it into a feature film?

HN: I was suggested as a director of Chatroom to the financiers of the film when I met an executive producer in the 2008 Hong Kong Film Market. Then I read the script and I became intrigued as I thought the theme of Enda's play echoed with what was going on internationally and who was drowning in the cyber world. Enda and I talked with the producers about the real cases such as Akihabara's massacre which was executed by a lonely, clever boy who was screaming in mobile internet chatrooms in vain. Nobody replied to his outcry of deep frustration, so he rented a truck and hit and stabbed many people to death in the world famous "Otaku" (the people who love animation, costume play, and comic figures, some of them are internet addicts) town Akihabara, it was very ironic.
I thought this reality and Chatroom had a strong connection. This killer and William are birds of a feather, I think. I have to say it was not an easy adaptation as I heard Enda's play was very simple and stoic in terms of set decoration and actors' action. There were just five chairs and five people chatting, without looking at each other, against the hollow (black?) background. A stage play can be as abstract as this, but I had to create weird but perhaps very saturated chatroom spaces because they are there to be amazed and entertained with faceless online friends, whereas their reality scenes should look very gloomy to reflect their frustration and anger to the society and their families. Luckily I could work with excellent DOP, Benoit Delhomme and production designer Jon Henson. They both understood instantly my thoughts how to visualize internet world. I did love working with them and all cast and crew.

DB: The story could have easily been set in Japan and filmed with a Japanese cast, was there any particular reason you chose to keep it completely British?

HN: Simply I was hired to adapt Chatroom into a live action film by British producers. Similar themed Japanese films such as Suicide Circle did exist, so I perhaps would not have made Chatroom in Japanese even I was asked to. It was more of my passion of making another English language film, after the setback of The Eye in Hollywood. And I have a great fondness of UK culture as I stayed in London 1992 through 1996 to make my independent documentary film on Joseph Losey, The Man with Four Names. I started my career as a filmmaker with this movie. I had never intended to become a horror film maker. I was just a film bug student who loved melodrama and musicals by directors like Max Ophuls and George Cukor. I was terrified with the 70's horror films such as The Exorcist, The Omen, and Suspiria in my mid teens. I have never been a horror film fan and I do not love the genre as a director now either. But I do my best as a filmmaker watching classic horror films around the world to inspire myself as much as possible.
DB: You have a very talented young cast for the movie, was it difficult to find actors that could deliver the performances you needed for Chatroom?

HN: No, not at all. We went through so many auditions and reading sessions. The casting director Nina Gold and I thought it might be an interesting idea to try to get complete amateurs from school, but it did not go well. And in the process I was very much impressed with the fact that there are so many good young UK actors. When I was in LA, I was also amazed how many talented and named actors would come and read for small character roles. I had prejudice that actors who only work in UK films and TV could be a bit inferior to those in LA. I was completely wrong. The ones who appear in Chatroom have long careers since childhood. And they would freely work from feature film, TV drama, to stage play. Many of these five actors really wanted to be in the film, some of them turned down big Hollywood projects for Chatroom. Through the long process of reading sessions and the very focused rehearsal sessions just before the production started, they did understood the theme of the film and their characters perfectly. So it was just a big fun to work with them on the sets and the London locations.

DB: It is a very dark film, chilling in places, but there are none of the supernatural elements that have been present in your earlier films. Do you think your audience will still get the same kick out of this movie?

HN: I think it is our audience who can really judge the quality of what they watch. However, I always try to be the first audience to be entertained by actors' performances and excellent skills of the crew and I completely enjoy it. So as the audience on the set, I was completely satisfied with the result. I read some good reviews and many bad reviews! But it always happens, so I try to go to the cinema and see the reaction of real audiences who are willing to pay to watch our film. It is the best learning method to evaluate as I can feel the audience emotion without it being spoken. Just hearing screams, laughter, and even silent beats of the one next to me tells me a lot about which scene is working or not.
DB: I thought the use of colour in Chatroom was very effective; when the characters are online the colours are rich and vivid, a direct contrast to the pale, dull colours of their real lives. In the same way they seemed to over-emphasise their personalities in the chatroom and tone them down when offline. Was it important to you to highlight the differences between their online and offline personalities?
Yes, as I mentioned earlier, it was the essence and the most important element to visualise Enda's play for me. So Jon built wonderful sets according to my thoughts, and he achieved it very inexpensively. I can't remember how many times they painted the walls of the chatroom differently and decorated the rooms. On location, Benoit and I worked extremely fast to avoid the sunlight. These teenagers' realities should look gloomy, so we rolled the camera just when the clouds covered the sun. As you know, UK weather is very tricky. It could rain, be sunny and cloudy within a few hours. Benoit worked so meticulously on the Digital Intermedia process to tweak the grading of each scenes. Saturation for chatrooms and desaturation for their reality, but if you take a close look at it, the two worlds begin to merge visually to the point when the two boys finally meet in the zoo.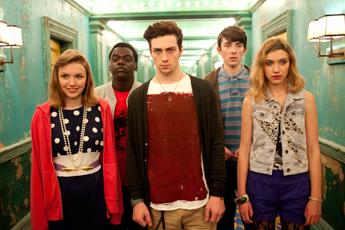 DB: A lot of the issues touched on by the film have been reported in the news, and the story is one that almost certainly has a basis in truth. Is Chatroom delivering the message that the internet is becoming a darker, more dangerous place?
HN: Yes and no. Yes, William is a cyber murderer who almost killed Jim. His emotion to be so eager to see and touch the death, and reset his own life, is so close to that of the Akihabara murderer. He was in deep despair after the unfortunate misunderstanding with his parents, his inferiority complex made him push Jim to the edge of the cliff, but his dark emotion for death is really aimed at himself. That is why William can smile in the darkness of the corridor. It is a happy ending for me. But at the same time he proactively chose not to kill Jim and send him the message "I have to go, but would you please live a long happy life for me?" And Jim nods to him and understands and appreciates it. (Unfortunately, we had to cut the two boys unspoken beats to express these feelings to cut the whole length of the film…) And No, if you watch Jim's close up after William jumps in front of the running train, he slightly smiles and leaves. He got William's message, he will go on.
The internet itself is just a modern technology originally invented for US military information network. Yes, we cannot live without it anymore, It does amplify people's dark emotions, but if you can have a good happy real life with friends and family, you can realise there is just nothingness in the internet. There aren't two worlds really, we should just use it as a useful tool.
DB: Nakata san, thank you for spending some time talking to Horror DNA.

HN: Thank you for your good questions. I appreciate them very much.
Chatroom is available to buy now on DVD and Blu-ray and on Amazon Prime from Signature Entertainment