Hunt A Killer: Camp Calamity Game Review
Written by Stuart D. Monroe
Released by Hunt A Killer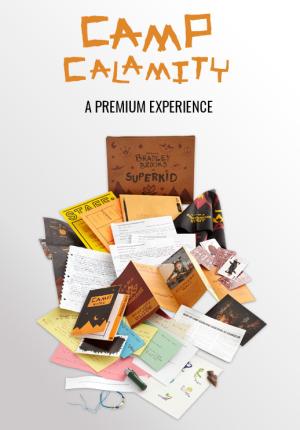 Developed by Hunt A Killer
2021
Game released Summer 2021
Review:
When my editor came to me with all the excitement of a little boy showing off his new toy and told me about the opportunity to review Camp Calamity (the new setting in Hunt A Killer's ever-growing lineup of interactive hybrid games), I jumped on the assignment. It was right in my wheelhouse (admittedly a fetish of mine) and had the added benefit of being something I could get my wife and daughter in on as well.
You see, we're a gaming family. There are no fewer than two games of Dungeons and Dragons every month in our house. We've worn out multiple editions of Zombiecide, Pandemic, and various others. Our deluxe "spinny board" edition of Scrabble is so well-worn that it's practically a family heirloom. So, why the hell haven't I ever reviewed a game for Horror DNA before? Why haven't I subscribed to one of these games before? This simply had to be rectified. It's a no-brainer.
While I have no basis of comparison to any other games in their lineup (pardon my Hunt A Killer virginity), I can say that Camp Calamity is a multi-layered, carefully built, and highly rewarding experience for gamers. The packaging alone holds a built-in nostalgic power for anyone who ever went to camp or even grew up in a certain generation, and it's also an important tool in the game itself! I love that. Every note, picture, arrowhead, map, scribbled missive, and hidden surprise (some of them physical) in the game box adds something tangible to the game.
The challenge level is frankly much higher than I thought it would be. Can I be honest (but not humble) with y'all for a minute? I'm a damn smart human, but this sucker is tough. We found ourselves frequently going to the digital side of the game for hints and even a couple of straight reveals to grease the wheels precisely because this is not ham-fisted, an "even if you can't figure it out you'll still win" kind of game. It's a true hybrid of the escape room, Clue, sensory overload, and honest-to-God detective work.
I was a tad frustrated at first, but it's because the information is laid out in such a way that you have many different approaches you can take to start unraveling the mystery. It's literally so open at first that you may wander for a bit before your compass locks in. We damn sure did! Don't feel like a little punk for having to go hit the hints. No shame.
Camp Calamity is the kind of game that defies those age/number of player recommendations you see on virtually all game boxes because it works as well with a group as it would with you going solo insane and just burying yourself in it for a couple of days. There were times during play that I wished I had done just that…
Fear not, though – the Ashburne Desktop gives you a shitload of resources to keep the game moving and get you even more immersed. Much like the VCR games of the '80s and '90s, you need to engage multiple mediums to sleuth with any degree of skill. Along the way, there are plenty of touches that make you smile – little Sleepaway Camp references and Friday the 13th homages keep your brain singing "I'm A Happy Camper"! I mean, just look at the picture of Adrienne Cohen, Camp Director! She's a combo of Betsy Palmer in Friday the 13th and Sandra Dorsey in Sleepaway Camp III: Teenage Wasteland. I don't know about you, but I truly appreciate those kinds of details.
Stephen King once said (in the essential On Writing: A Memoir of the Craft), "Story is honorable and trustworthy; plot is shifty, and best kept under house arrest." That's a quote that seems to fit what they're doing when they put a game together at Hunt A Killer. It all starts with a good story and characters that live and breathe, and Camp Calamity delivers both in spades. Like a well-written D&D module, you could even go back later and "run" the game for noobs who haven't had the experience. If that doesn't speak to the power of a well-told story, I don't know what does.
Now, it's time to see what some of their other games are all about. I believe I read something about Blair Witch…
This page includes affiliate links where Horror DNA may receive a small commission at no extra cost to you.