Dead Below Deck Game Review
Written by Steve Pattee
Released by Hunt A Killer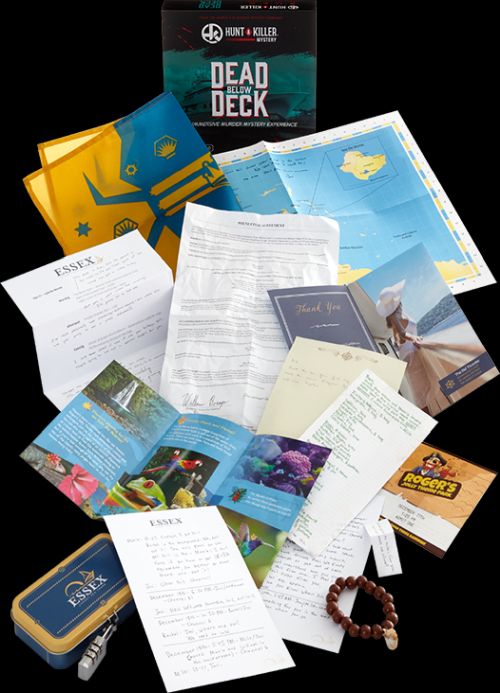 Developed by Hunt A Killer
2022
Review:
I have to admit, I'm not a huge fan of board games. Naturally, there are some I like, but overall if it's not on the Xbox, I'd rather play a game of Dungeons & Dragons than Monopoly. The former requires thought and the latter requires the luck of the dice. I guess technically D&D requires the luck of the dice too, but you know what I mean. I think that's why I'm loving these games from Hunt A Killer.
My introduction to Hunt A Killer was a few years back when I did one of its mystery boxes, Chestnut Falls. Later, I dived into its Blair Witch episodes (which I loved). But my first Hunt A Killer game was Whodonut? A Murder Mystery Jigsaw Puzzle. Working with some pals, we cracked the case of a Donut Shop proprietor's killing. That was a lot of fun.
So when Hunt A Killer's latest game, Dead Below Deck, arrived on my doorstep, I grabbed my magnifying glass and deerstalker and called up a few fellow detectives, Kelli and Amanda. Could we solve Rachel Veinson's murder? Yes, yes we could.
The story of Dead Below Deck is simple. Rachel was found dead on The Old Thunder, a yacht sailing in the Caribbean. While ruled an accidental death, her BFF is convinced Rachel was murdered and had sent us a slew of information to go through. Our job was to go through all of the evidence and determine the killer and motive. Man, this one is a blast.
First and foremost, read all of the instructions before you begin. One member of our team (it may or may not have been me) didn't and we hit a bit of a wall before Amanda pointed out there was more evidence via the phone app to go through. That particular catch blew the case wide open for us.
What's really fun about Dead Below Deck, aside from working together with friends and relying on your smarts as opposed to luck, is there are clues everywhere. But they aren't always in your face. Quite often we found information by cross-referencing other pieces of evidence. It wasn't unusual for one of us to be reading something from, say, a brochure, and then reaching out to snatch a note from another's hand to point out a clue.
Also, the folks at Hunt A Killer brilliantly added some red herrings to the game. Someone who might be an obvious suspect at first is soon not even a person of interest after you find evidence ruling them out. That doesn't mean they aren't up to no good, it just means they didn't have anything to do with Rachel's death.
We all had a lot of fun combing through the evidence and bouncing ideas off one another until we started zeroing in on a suspect. Once we locked in, the pieces started coming together quickly until Amanda yelled out who did the killing and Kelli and I determined the why. A good time was had by all.
As you can imagine, this is a game that can only be played once because there is only one crime and one killer. However, it took us a few hours to solve it, and the fun was easily worth the MSRP of $32.99. Heck, you can barely see a movie with popcorn and drinks for that price. Plus, the game can be the good version of a fruitcake and be passed on to your friends.
Lastly, don't worry if you get stuck; Hunt A Killer has plenty of hints and answers you can access easily via the site or app.
Dead Below Deck is a great way to spend some time with friends and family, using your head to solve an interesting mystery.
This page includes affiliate links where Horror DNA may receive a small commission at no extra cost to you.