Click image to enlarge
James Tynion IV Talks Something is Killing the Children
Interview conducted by James Ferguson
I am eagerly anticipating the release of Something is Killing the Children from BOOM! Studios. This series, scheduled to debut next week from writer James Tynion IV and artist Werther Dell'Edera, takes us to a close-knit community as it's rocked by a series of murders. You can imagine my excitement when I got a chance to speak with Tynion IV about the project. My only other interaction with him was at New York Comic Con a few years ago shortly after The Woods began, where I sheepishly walked up to him and told him how much I loved the series.
In a sleepy town in the heart of America, children have started to die in horrific ways. The local police are mystified by the brutal murders, and frantic to catch the killer. But they refuse to believe reports of impossible creatures that lurk in the shadows snatching children and tearing them to pieces, especially since the only people who claim to have seen these so-called monsters are other children. Enter Erica Slaughter, a mysterious stranger who rides into town and claims she can solve their "monster" problem. But can the townspeople trust this dangerous outsider with their children's lives? And more importantly, can the children trust this strange adult with their secrets?
James Ferguson: The title is pretty specific with this. You have a pretty good idea of what you're getting into with Something is Killing the Children, but there are still plenty of surprises along the way. How did you decide upon the title for the series?
James Tynion IV: The title is something that existed for a long time. The first thing that was ever titled "Something is Killing the Children" was a short story I wrote while I was in college. It was no good and it has nothing to do with what the comic is today, but the title has always stuck in my mind. With every stage of my career, it's something that I've been thinking about long form projects. I'd always write it on the list. Every time it would come to the forefront, the story would change and shift. I knew there was a kind of power to it that I would want to come back to. I think it's very evocative. There's a kind of dread and a mystery right there in the title that really embodies the sort of horror that I've always gravitated towards. I'm excited that I finally get to bring it out into the open.
JF: The fact it's Something and not Someone is that deciding factor in that layer of mystery. There's more going on here than just a murder mystery.
JTIV: Exactly!
JF: Judging by the appearance of Erica Slaughter (Great name, by the way), are people more afraid of her or the alleged monsters in the woods?
JTIV: That's a great question. Part of the core mythology of the series is that there are all these monsters that exist out there in the world. There are only a few people out there that know the true nature of these creatures and are able to see them and fight them. We'll learn quickly that children are able to see them. They're the ones that are targeted by the monsters. Adults can't see them. They can't comprehend the scale of the threat they're up against.
Erica knows what she's there to do. She's been hunting monsters for a long time. She's arriving in this small town in northern Wisconsin that's experienced so much horrifying trauma. They've lost so much already. The only thing they can see that's wrong in that town is her. They're going to turn all their fear against her. That's going to create a lot of the central conflict in the series moving forward. She's there to help, but the town doesn't understand what kind of help she's there to bring. That dynamic is really right at the heart of the series.
JF: This is really interesting. You think of shows like Supernatural or other monster hunter stories, and to the outside world and people that don't know about monsters, that has to look really weird. You show up, people die, and then you mysteriously leave? There are a lot of red flags that come up. The fact that she's there to help but no one can see that and the only ones that can are kids provides a unique perspective. Adults don't take kids seriously.
JTIV: The fact that these young people are trusting her instead of the police in their community adds to the mystery. Is she the predator? Did she come in and cause all this trouble? All of those fears are really going to come to the surface, especially because we have a bunch of people who have experienced such loss. They are so desperate to find answers. That's the other aspect of the horror in the series. There's something very abstract about these monsters. They're these kind of strange creatures of fear and shadow. They aren't something the adults of this world can get their minds around, but they know that something is killing the children and they're desperate to find an answer. They want something concrete. They want something they can fight and see and hold and solve. There really isn't something that concrete. Erica understands that. There are all of these in-universe reasons why she's able to see them and all that, but there is something more generally frightening about the kind of abstract horror and dread that you feel towards the world when there's a threat that you don't know how to solve. You just feel absolutely helpless in the face of it. That helplessness just digs deep inside of you.
When you talk about it from the most top-level perspective, this is a story about a monster hunter arriving in a town to hunt monsters. It feels like this is an action/horror comic, but that is not what this is at all. It's a story that moves through the trauma and the melancholy and the helplessness that this town is feeling. The only solution that comes their way is something they can't understand and they can't fully accept that. The thing they're going to have to allow to solve the problem is something they might never understand. If they allow Erica to do what she needs to do, you won't have an answer as to what's killing those children, but kids will stop dying. That's obviously worth it, but it's something that's very difficult to accept.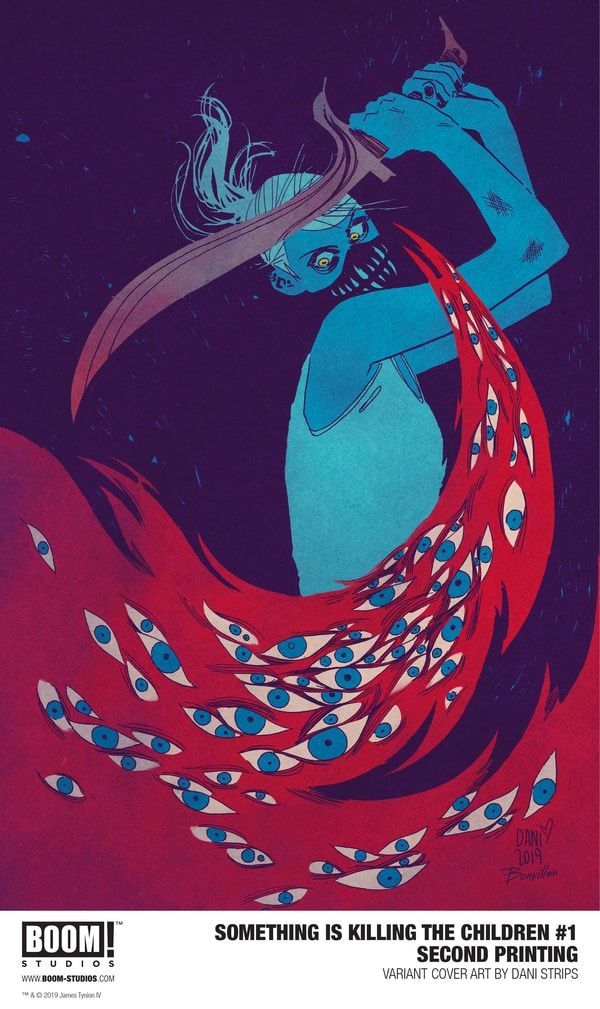 Click image to enlarge
JF: Something is Killing the Children has been promoted from a limited series to an ongoing. How do you approach that now? Do you change anything in how you were plotting out what is now the first arc, knowing you're going to have a lot more room to tell the story?
JTIV: It's really funny. When I first pitched this to BOOM! in its current iteration, I originally saw it as a series of one-shots. Every issue would be very stand-alone and you'd see Erica arrive in a different down. We'd show it from different perspectives. Within five pages of writing the first issue, I knew this was a different story from the one I had set out to tell. I knew there was a long-form story here. The story of Archer's Peak, Wisconsin, and the characters affected by this loss wasn't something I could get done in 30 pages. This was something I needed at least five issues to tell.
When we got the news that we'd be able to make it an even more robust story, it solved a problem for me. [laughs] I had been feeling that five issues wasn't enough to tell it either. The way I'm approaching this is that it's a kind of horror novel that's going to be released in monthly chapters. I have a big ending that I'm building towards. It's the same one I've always had in mind, but now I'm going to get to live in the world and show the horror and live in it a bit more. I could not be more excited about the opportunity or more grateful for the support that people have already shown the series before the first issue has even come out. I hope that everyone checks out the first issue on September 4th and sees the absolutely stunning, incredible art from Werther Dell'Adera and Miquel Merto. I think this book is beautiful and deeply unsettling and scary. It has defied my every expectation in writing it and I look forward to it continuing to do so long into the future.
Horror DNA would like to thank James Tynion IV for taking the time to speak with us. Something is Killing the Children #1 is set for release on September 4th, 2019.