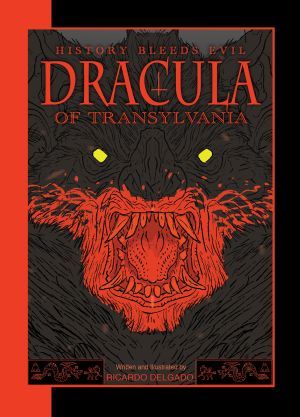 Like Nothing You've Seen Before - Ricardo Delgado Talks Dracula of Transylvania
Interview conducted by James Ferguson
Bram Stoker's Dracula has been adapted through comics, books, movies, and more, but never something like this. Film designer Ricardo Delgado has put his own spin on this classic tale in Dracula of Transylvania, an illustrated novel currently on Kickstarter. I had a chance to speak with him about the book, his approach, and what we can expect from the book's release.
James Ferguson: What drew you to Dracula of Transylvania as your next project?
Ricardo Delgado: When I was a kid obsessed with monsters, I enjoyed different aspects of the stories about Dracula. Some of the films, books, or comic books portrayed him differently. The transformation into a bat is an example. As much as I loved those early pictures, I was never really satisfied with the whole 'rubber bat on a string' kind of effect and some of the more recent full body vampire bat makeups were cool, but you never saw them moving around or flying very much. That's because it costs money to create that kind of effect, so I decided to write my story based on the idea of creating a ferocious, full-sized bat version of the character and have the many forms of Dracula on full display for extended sequences throughout the book. In Dracula of Transylvania you'll read about the Dracula Bat, the Dracula Wolf, the Dracula giant Rat, and the vampire in mist form running around. I'm super proud of that.
JF: Bram Stoker's Dracula has been adapted many times across multiple mediums since its creation. What makes your version stand out from the rest?
RD: Let me see, where do I start? I wanted the pacing to be faster, more modern. There's also a deep historical context to this version, which I do annotate throughout with tidbits about history, a subject that is fascinating, yet often presented in a mundane kind of way. See my high school history classes as examples. Here the history adds texture and context to the story. Also, I've storyboarded many action sequences for feature films and wanted this story to have them, and let's just say you'll get your money's worth. Also the horror, and by that I mean my story weaves in stuff that will appeal to both the modern horror audience as well as fans of traditional Victorian Era Ghost story writers such as M.R. James, H.P. Lovecraft, and Algernon Blackwood. In fact, my Renfield was actually named after James, Montague Rhodes Renfield!
JF: There are more than twenty illustrations in Dracula of Transylvania. How did you decide which parts of the book to draw?
RD: The stuff that appealed to me the most as a concept artist and creature designer. As an example, the wolf form of Dracula has been depicted as either a trained animal on a set or a creature suit on an actor that varied in their degrees of success. I wanted a wolf so big and powerful that it could rip the head of a tiger and would instantly terrify everyone in the room when it bounded in. Same with the demons, vampires, and all the other monsters in this story. Most concept artists want to create something that has not been seen before, and we are often frustrated because the final iterations end up being more mundane. That's why stuff like the Predator or the original Creature from the Black Lagoon pop, because we simply have not seen that before. In Dracula of Transylvania, you'll see some stuff you've never seen before. That's a promise!
JF: What brought you to Kickstarter for Dracula of Transylvania?
RD: Publishing, like everything else these days is evolving at a rapid pace, and I for one am excited about that. The idea that customers can buy everything from a digital copy to an elaborate printed version with an original drawing of mine would have been unheard of just a short time ago, so as an adult who had to constantly decide where my money was spent at the comic book rack, this is all pretty awesome! Look forward to everyone's thoughts once this book hits the streets!
JF: Are there any other monsters that would give Dracula a run for his money?
RD: Frankenstein's Monster of course, but that's entirely another story.
Horror DNA would like to thank Ricardo Delgado for taking the time to speak with us. Dracula of Transylvania is currently on Kickstarter. The campaign runs through March 25th, 2021.
Click image to enlarge