Mikaela Hoover Interview
Interview conducted by Richelle Charkot
Horror DNA got the chance to chat with the very busy Mikaela Hoover (Guardians of the Galaxy) about her upcoming leap into the horror genre. She can be seen in the upcoming web-series Zombie Basement, which asks the question, "In a zombie apocalypse, how do people stay entertained?"
Richelle Charkot: I'm in love with the premise for Zombie Basement; the idea that in an apocalypse we would eventually need entertainment again is hilarious. Tell me more about Zombie Basement and what you thought when you first heard about this project.
Mikaela Hoover: It's such a fun project and I feel so lucky to be involved. One of the directors, Randall Whittinghill, was my acting coach for years. He asked if I would be on board to play Kim Kim. I read the script and was immediately in. The writer, David Schneiderman, has such a talent for creating funny characters. I also really wanted to work with the director Brian Dannelly (Saved).
Zombie Basement essentially follows two friends (Graham Rogers & Daryl Sabara) who survive the zombie apocalypse, and are so bored being stuck in their basement that they create their own show for the remaining survivors.
RC: The million dollar question; what is your survival plan for a zombie apocalypse?
MK: I have no survival plan. I always tell my friends if there is a zombie apocalypse, don't open the door for me because I am definitely a zombie. Trying to stay alive during a zombie apocalypse would be a huge pain in the ass. I'm kind of a follower anyway. And who knows, the zombies could be living it up.
RC: You're also in a short film called Hide and Seek; tell me a bit about this project.
MK: It's a horror film that will be circling the film festivals this month. I can't give too much away, but it focuses on a young girl and her relationship with her step-mother.
RC: Peter Safran, the producer of Hide and Seek, is also the producer for The Conjuring. Did you brave a watch of The Conjuring in theaters? (It took me until it came out to DVD because I was a wimp).
MK: I saw The Conjuring in theaters. My boyfriend at the time was not a scary movie fan, he screamed out loud three times in the theater, so I spent most the movie laughing at him.
RC: Tell me about working with Carles Torrens, the director of Hide and Seek.
MK: Carles was great. We were able to develop a great friendship through this project and I'm hoping to work with him again soon.
RC: How do you get yourself in the mindset to do a scary scene? Do you purposely frighten yourself or anything to that effect?
MK: It depends on the scene and the circumstances. I think about when I have been in super scary situations and what it felt like.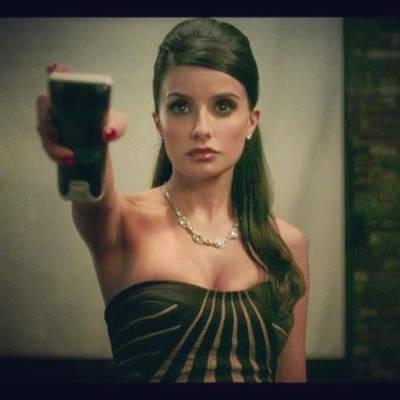 RC: I understand you're a huge Wes Craven fan; I think the Scream franchise is probably my most re-watched series of movies. What's your favourite Craven and why?
MK: Scream will always be my favorite Wes Craven film. As a child I was terrified of horror films, but after seeing Scream I fell in love with the horror genre. Scream is sexy and funny and completely reinvented the horror genre.
RC: What is it about the horror genre that appeals to you?
MK: I love that when you watch a scary movie, nothing else in your life matters. If it's a good horror film, you are completely present in that moment. There is no other genre that can suck me in like that.
RC: Tell me about your earliest memory with a horror movie.
Horror DNA would like to thank Mikaela Hoover for taking the time to sit down with us.
Want to share some news? Click here to hit us with it!